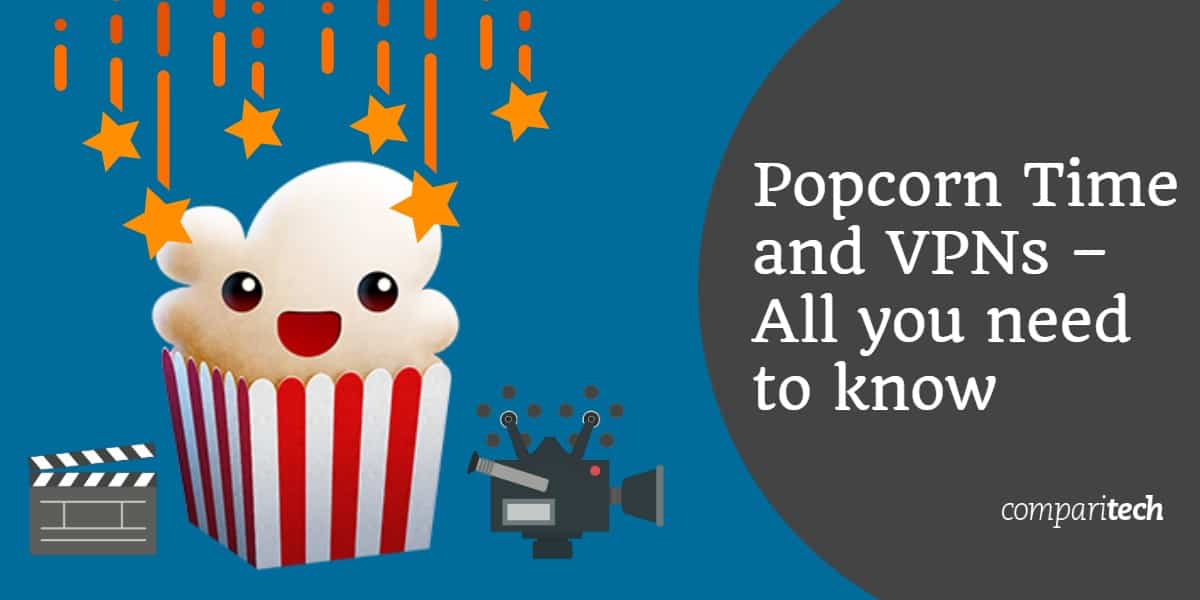 Most Popcorn Time users will access it with a VPN. So should you be using one?
A VPN connection masks a user's IP address and true location while encrypting all the internet traffic to and from their computer or smartphone. That makes it almost impossible for an ISP or anyone else to monitor or trace an individual's online activity. VPNs are great way to protect your privacy in addition to guarding against cyber security threats such as Man-in-the-middle Attacks. This makes VPNs popular with users who value their privacy and don't want their internet provider or others snooping on their online activity.
Please note that while the Popcorn Time software itself is considered by most commentators to be legal, in most countries downloading or storing copyrighted content is not and should be avoided. If you intend to use Popcorn Time please ensure any content you access you have the legal right to do so. As always do your own research – this article shouldn't be considered as legal advice.
The best VPNs for Popcorn Time
We narrowed down the list of the best VPNs for Popcorn Time based on these criteria:
Comparitech does not condone or encourage any violation of copyright restrictions, especially through torrents. Please consider the law, victims, and risks of piracy before using an app like Popcorn Time. There are many excellent legal options for those who want movie streaming. We recommend users consider legal options over torrent streaming options like Popcorn Time.
Aug 2020 Unblocks Popcorn TimeTested Aug 2020
Our top recommendation, ExpressVPN boasts consistently quick download rates across the board and is simple to use. DNS requests are coerced to IPv4 to prevent IPv6 leaks. All connections are 256-bit encrypted over OpenVPN by default. ExpressVPN recently added a "network lock," its term for a kill switch, to prevent any traffic traveling over unencrypted channels.
All IPs are shared IP addresses, and because it's one of the most popular VPN providers on the planet, you can bet you'll be mixed in with dozens if not hundreds of other people. ExpressVPN does not record usage logs or monitor traffic.
BEST VPN FOR POPCORN TIME:ExpressVPN is our #1 Choice. Works extremely well with Popcorn Time, torrenting and streaming services. Exceptional speeds for downloading, streaming and buffer-free HD viewing along with total security and privacy. Try it risk-free with the 30-day money back guarantee.
Read our full review of ExpressVPN here.
Unblocks Popcorn TimeTested Aug 2020
NordVPN has a huge wealth of servers to choose from, and the app shows which are under the heaviest load. That means finding a fast one is easy. DNS leak protection and a kill switch can both be enabled in the settings. Some servers are specialized for "ultra-fast streaming", so those should also work well for torrenting. NordVPN keeps no logs and is based in Panama. All of the servers use shared IP addresses unless otherwise noted.
BEST BUDGET CHOICE:NordVPN is a solid all-rounder. Works well with Popcorn Time and achieves good speeds. Solid security and privacy performer. Accommodates up to 6 devices. Includes 30-day money back guarantee.
Read our full review of NordVPN here.
Unblocks Popcorn TimeTested Aug 2020
Surfshark has plenty of features that make it a strong choice for torrenting. There's 256-bit encryption, protection against WebRTC, IPv6, and DNS leaks, and a kill switch for starters, as well as split-tunneling functionality and a network of over 1,000 servers in 60+ countries. It even allows you to connect as many devices as you like! Surfshark doesn't log any information that could identify you and allows users to sign up anonymously by paying in cryptocurrency and using a throwaway email address.
Apps are available for Windows, iOS, MacOS, Android, and Linux. Manual configuration is required for use with supported routers.
UNLIMITED CONNECTIONS:Surfshark has no connection limit, good speeds, and a strong focus on security, meaning it's perfect for anyone who torrents regularly. This VPN comes with a 30-day money-back guarantee.
Read our full Surfshark review
Unblocks Popcorn TimeTested Aug 2020
CyberGhost's apps include an anonymous torrenting mode that's perfect for Popcorn Time users. It proved to be among the fastest VPNs in our tests, so don't be shy about hitting the 1080p button. The company has a zero-logs policy, although it was recently acquired so be on the lookout for possible changes. 256-bit AES encryption is used with the OpenVPN protocol to keep your activity safe from prying eyes.
Intuitive apps are available for Windows, MacOS, Linux, iOS, and Android.
GREAT FOR BEGINNERS:CyberGhost is a popular choice for novice users. Strong on privacy, fast speeds and reliable for torrenting & P2P which makes it a joy to use with Popcorn Time. We found it easy to set up and use. Works well with most streaming sites. 45-day money back guarantee.
Read our full review of CyberGhost.
Unblocks Popcorn TimeTested Aug 2020
IPVanish, which claims to be the fastest VPN for torrenting, allows P2P activity on all servers and keeps no logs of user activity. The app will automatically connect you to the server with the least latency in the country of your choosing. DNS leak protection is built in, as is a kill switch. No activity logs are stored on the company's servers. The company is US-based, but that shouldn't pose too much of a problem for torrenters. All of the servers use shared IPs.
UP TO 10 DEVICES:IPVanish has a large network of servers. A favorite choice for torrenters, P2P and Kodi users. Adhere to the highest standard of privacy, but can struggle with unblocking some popular streaming sites. 7-day money back guarantee.
Read our full review of IPVanish here.
Unblocks Popcorn TimeTested Aug 2020
About half of StrongVPN's servers are compatible with OpenVPN, but the L2TP, IKEv2, and SSTP options should work as well. Just don't use PPTP, which is fundamentally not secure. No logs are stored and speeds are decent, and the app just got a much-needed redesign that really improved the interface. A kill switch can be toggled on in the settings. DNS leak protection works fine when tested, but just to be sure it might be a good idea to disable IPv6.
Apps are available for Windows, iOS, Android, Amazon Fire and all other major platforms.
TRUSTY AND RELIABLE:StrongVPN is a good all-rounder. Great for Popcorn Time users and those that want to unblock content like Netflix and Hulu or evade censorship. Be prepared for manual server configuration. 45-day money back guarantee.
Read our full review of StrongVPN here.
Unblocks Popcorn TimeTested Aug 2020
Hotspot Shield has 3,000+ servers in 70+ countries. It boasts consistently high speeds and unlimited bandwidth, so it's already a strong choice for torrenting.There's also 256-bit encryption, a kill switch, and protection against DNS and IPv6 leaks, as well as the ability to let certain websites bypass the VPN. Hotspot Shield doesn't log any personal information after you've disconnected . 24/7 support is available over live chat, should you need it.
Hotspot Shield provides Windows, Android, MacOS, and iOS apps.
FAST DOWNLOAD SPEEDS:Hotspot Shield offers unlimited bandwidth, powerful security features, and plenty of high-speed servers, meaning it's ideal for torrenting. A 45-day money-back guarantee is included.
Read our full Hotspot Shield review
---
VPNs to avoid
It goes without saying that any VPN service which explicitly forbids torrenting should be avoided by Popcorn Time users. That includes most free VPNs and a handful of paid ones. VPN services that retain usage or traffic logs (different from a connection log) should also be kept at arm's length. We can't list them all here, but here are a few you should probably steer clear of.
VyprVPN
VyprVPN is a solid, if expensive, tier 1 VPN provider on the whole, but it has been known to shut down accounts of users who utilize P2P file sharing and torrents. While VyprVPN states that it does not monitor traffic, it does seem to have mechanisms in place to comply with DMCA notices by locking customer out. Torrenters and Usenet users alike have complained about their accounts being terminated without notice in the past.
Read our full review of VyprVPN.
HideMyAss
Based in the UK, HideMyAss is required to keep partial logs on all users. The service gained notoriety on a couple of occasions when users were allegedly arrested due to the contents of these logs. Even if HideMyAss was coerced by authorities, it would be unwise for torrenters and Popcorn Time users to take a chance on it.
Read our HideMyAss review.
VPNGate
VPNGate is a fantastic academic initiative out of Japan that aims to uncensor the web for people living under oppressive anti-free speech regimes. It uses a network of volunteer-run free VPN nodes around the world as relays. It discourages P2P file sharing activities that would hog the network, however, and it keeps logs for up to three months to help weed out abuse and criminal wrongdoing.
Why use a VPN for Popcorn Time?
Popcorn Time offers a high-quality streaming experience that's much more organized and less riddled with advertisements than shifty websites.
Nevertheless, because Popcorn Time streams video straight from torrents, it does constitute copyright piracy. Popcorn Time is not a service we recommend users turn to in most countries, as torrenting pirated streams is commonly considered a crime. Any user who intends to take that risk, however, should definitely be paying for a Popcorn Time VPN. Otherwise, expect a nasty letter from either your ISP, a copyright troll, or the Motion Picture Association of America.
You might assume that the best VPNs for Popcorn Time would be the same as the best VPNs for torrenting. In a lot of ways, you would be right. It requires the utmost security, but it must also be consistently fast in order to stream in HD. All of the VPN providers we recommend above offer unlimited bandwidth.
Popcorn Time VPN for Android and iOS
The Popcorn Time app for Android and iOS works the same way as the desktop version: via BitTorrent. Fortunately, to be considered a best VPN for Popcorn Time, all of the Popcorn Time VPNs we recommend above offer their own Android and iOS apps. They too work much in the same manner as their desktop counterparts. Just download and install the app, sign in, and select a server to connect. Once the connection is established, the Popcorn Time app on your iPhone or Android device will be secured.
Why does Popcorn Time still say I need a VPN?

Popcorn Time now informs users that they need to use a VPN when they use the app:
"You're being monitored! Streaming without a secure VPN connection will expose your identity and can get you in trouble. Please take 1 minute to activate the built-in unlimited VPN connection before streaming.
The message pops up after clicking "Watch it now" for any video in the app. While this appears to be an error message or security alert, it is merely an advertisement. Clicking "Turn on VPN" will take you to a page where you can purchase a VPN subscription with Anonymous VPN.
We recommend against doing this simply because there are better, cheaper, more reputable VPNs out there than Anonymous VPN.
If you connect to a VPN server from a different provider before watching Popcorn Time, you will still see the ad. So long as you are connected to a reputable provider, you can safely ignore it and click "Continue".
Popcorn Time not working?
A few months back, Popcorn Time shut down its operations. Instead of the normal catalog of shows, users were greeted with a database error. If you are still using an older version of Popcorn Time, you might still get this error. Download the latest version on the official Popcorn Time website. There's no way to update the old app, so just uninstall it.
NAT Firewalls
Many VPNs come with NAT Firewalls built in, which block connections from peers on P2P networks, as well as other unsolicited connections. This can prevent torrents, which rely on P2P networks, from functioning properly.
Depending on the VPN, you may be able to disable the NAT firewall somewhere in the settings. If not, you will need to use port forwarding. This is usually a manual procedure where the VPN provider designates a specific port to be used for P2P traffic. Users must configure their bittorrent client to use this port. If the port is not listed on the VPN provider's website, the user will need to contact customer support and ask for it.
Is Popcorn Time a honeypot?
Some rumors suggest that Popcorn Time is actually a honeypot scheme controlled by the MPAA, the Motion Picture Association of America. The idea is that Popcorn Time lures users into torrenting so that the MIAA and copyright trolls can sue them for money or extort settlements. In all likelihood, this is merely a conspiracy with no credible evidence.
The MIAA has actually filed DMCA takedown requests against Popcorn Time to have content removed or else face litigation. It wouldn't make much sense for the MIAA to sue itself.
For further proof, Popcorn Time maintains a detailed commit log where anyone can see the community who write the Popcorn Time software.
On the extremely unlikely chance that Popcorn Time is a honeypot, a VPN will maintain your anonymity and prevent copyright trolls from taking any action against you.
Does Popcorn Time seed torrents?
Whenever you watch a movie or TV show on Popcorn Time, you're downloading it from a torrent. Conversely, Popcorn Time uploads the parts you've downloaded to other torrenters and Popcorn Time users. So yes, Popcorn Time seeds torrents.
Legal Popcorn Time alternatives
If Popcorn Time's use of torrents is illegal where you live, there are several alternative streaming TV show and movie providers out there you can use instead. Or, if you've been locked out of your paid streaming service because you left the country, you can still access them with a VPN instead of resorting to piracy. Here are some of our favorites:
Free Popcorn Time alternatives
Paid Popcorn Time alternatives