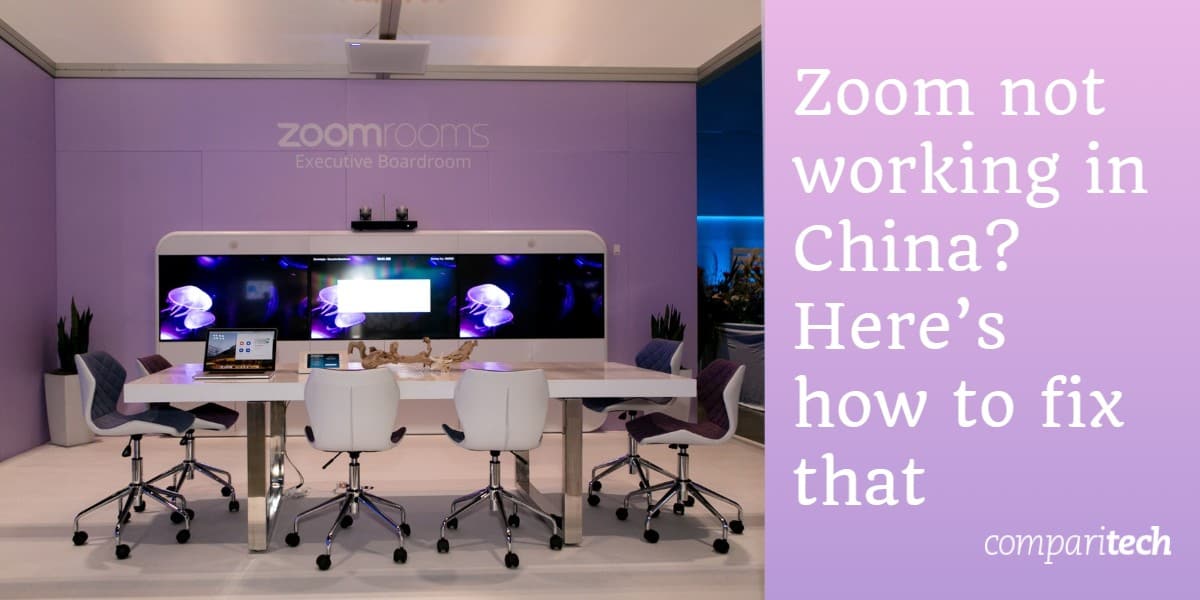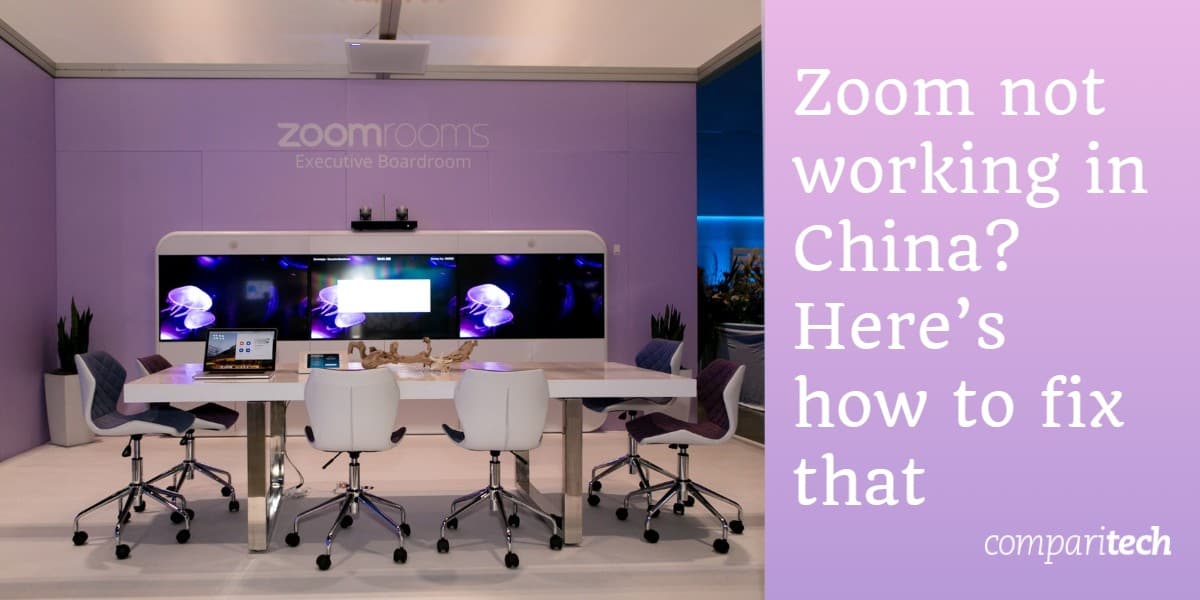 Popular video conferencing tool Zoom was blocked in China recently which has caused consternation among users. However, there are solutions to this problem that will allow you to use Zoom in China and in other countries where it is blocked.
If you connect to a Virtual Private Network (VPN) while in China, it'll be possible to mask your actual location by changing your IP address. This means you could theoretically browse the free web in China with a US IP address, for example.
VPN software encrypts all the traffic flowing to and from your device and routes it via an intermediary server. Hence, if you pick a server in the US your Chinese IP address is replaced with an American one. Following that step, all host websites and apps you connect to will assume you're located in the US.
We'll walk you through how to access Zoom in China by using a VPN and show you the small number of VPNs which still work in China.
How to unblock Zoom in China
Follow the steps below to unblock Zoom in China as well as other locations where it might be blocked.
Here's how to use Zoom in China:
Decide on a suitable VPN service. Note that very few VPNs work in China so it's critical that you pick the right one. Our recommendation is ExpressVPN.
Register for the service with your credit card. Some providers also accept PayPal and cryptocurrencies.
After payment authentication, proceed to download the relevant apps for your device. Only use official websites or app marketplaces as third-party sites shouldn't be trusted.
Connect to a VPN server in a country where Zoom isn't blocked, for example, the United States or Canada.
After the connection is established, proceed to open the Zoom app. You should now be able to access the tool without an error message.
We mentioned ExpressVPN, but there are a few other VPNs that work reliably in China. We'll go into these in more detail below, but here's our list of the best VPNs for the purpose:
China is a tricky country when it comes to VPN usage. Don't assume that all VPNs work in the country as it's Great Firewall is adept at blocking services. Our list of the best VPNs to unblock Zoom in China hinges on the following parameters.
Criteria for selecting the best VPNs to unblock Zoom:
Proven to work in China
Fast speeds for lag-free video calls and browsing
Superior encryption which guarantees a leak-proof connection
Friendly customer support for fast troubleshooting
Policy to not store any personally identifiable information
Money-back guarantee, preferably of at least 30 days.
Best VPNs to unblock Zoom in China
Here's a short review of our top picks to unblock Zoom in China in order to make and receive calls quickly.
Jun 2022 unblocks zoomTested Jun 2022
ExpressVPN is our top pick to access Zoom in China reliably. The service currently offers over 3,000 secure, optimized servers in 94 countries with lots of options in North America, Europe, and parts of Asia. None of these regions block Zoom so it's a straightforward task to access the video streaming app whenever you need to.
ExpressVPN uses military-grade encryption protocols such as 256-bit AES in conjunction with 4096-bit DHE-RSA keys. Additional security measures include perfect forward secrecy, an internet kill switch, and protection against DNS leaks. If you're confused by this terminology, rest assured that the protection on offer is top of the line.
This provider doesn't log any personally identifiable information, including IP addresses. You can also pay with Bitcoin for further anonymity. What's more, its speeds are blazing-fast so there's little chance of any lag or delay during your Zoom video call.
ExpressVPN's friendly customer support team is on hand 24/7 to solve all your tech problems. If you're stuck, it can assist in identifying an optimal server for Zoom. Plus, its app is very easy to figure out and will get you an encrypted internet connection within a few minutes.
ExpressVPN offers apps for Windows, MacOS, iOS, Linux, and Android. There are browser extensions for Chrome and Firefox too. One account allows five simultaneous connections.
Pros:
High speeds for downloading and video streaming
Hard to beat on privacy and security
Offers 24/7 live chat
3,000+ servers in 94 countries
Doesn't log any data that can identify you
Cons:
Slightly more expensive than some other options
BEST VPN TO UNBLOCK ZOOM IN CHINA:ExpressVPN is our #1 choice to access Zoom securely in China. Speed-optimized servers and leak-proof connections mean your information will stay private and away from any prying eyes. Try it risk-free with a 30-day money-back guarantee.
Here's our extensive ExpressVPN user review.
ExpressVPN Coupon
SAVE: 49% on the annual plan
Get Deal >
Coupon applied automatically
---
Apps Available:
PC
Mac
IOS
Android
Linux
FireTV
NordVPN is our best budget option to unblock Zoom in China. The provider is available at an attractive, affordable price without compromising on any facet of the VPN experience. It has one of the largest server networks of any top-tier VPN, with over 5,600 spread across 60 countries. While server count isn't the only yardstick by which to measure VPN efficacy, the fact is that NordVPN can enable you to get an anonymous connection from most corners of the globe.
Some of its server offerings are optimized for specific tasks: including solid encryption, P2P file-sharing, and streaming. Its choice of encryption standards is also industry-leading, with 256-bit AES encryption, perfect forward secrecy, and security against DNS, WebRTC, and IPv6 leaks. The service throws in automatic wifi protection, ad-blocking, and anti-malware defense to further shore up its privacy offering.
NordVPN is known in industry parlance as a 'no-logs' provider due to its refusal to log user data of any kind. Customer support is available 24/7, and you can use the service on Android, iOS, MacOS, Linux, and Windows.
Pros:
Military-grade 256-bit encryption for great privacy
24/7 live chat support available
Unprecedented network across 60 countries
Great for privacy-conscious users with no logs and Bitcoin payments
Cons:
Can't specify a city you want to connect to
BEST BUDGET OPTION:NordVPN is easy on your pocket and ships with all the features of a modern-day VPN. A massive server network on offer means uninterrupted Zoom calls, whenever you want. Each plan comes with a 30-day money-back guarantee.
Read our NordVPN review.
NordVPN Coupon
SAVE 60% + FREE Malware Protection
Get Deal >
Discount applied automatically
---
Surfshark is the youngest provider on this list, but it's done a very good job of facing up to the giants of the VPN world. It works in China, which is a significant factor given how difficult it is for VPN companies to operate in the country. At the time of writing, it offers over 800 servers in 50 countries with enough options in North America and Europe to circumvent restrictions on Zoom.
All web traffic is secured by 256-bit AES encryption as well as DNS, WebRTC, and IPv6 leak protection. Further security measures such as the CleanWeb™ and Whitelister™ functions protect users against ads and malware.
Surfshark's policy of not storing any user data means all web sessions are kept private and secure. No one will be able to access the contents of your Zoom meeting and all confidential information shall remain just that. What's more, Surfshark's fast speeds mean Zoom calls won't lag or be subject to buffering.
The provider offers 24/7 customer support and accessibility options for Android, iOS, MacOS, and Windows. Plus, you can connect an unlimited number of devices with one account which is perfect for your whole team if on a business trip to China.
Pros:
Offers 24/7 live chat
Unlimited devices
Keeps no logs whatsoever
Cons:
Relatively small server network
UNLIMITED DEVICES:Surfshark can help you unblock Zoom in China without any problems. Fast speeds, solid encryption, and unlimited devices make it an attractive all-round package. Try it with a 30-day money-back guarantee.
Check out our full Surfshark review.
Surfshark Coupon
Get 2 Months FREE with a 2-year plan
Get Deal >
Discount applied automatically
---
VyprVPN is well-known for equipping all users with some of the most sophisticated encryption technology in the world. This provider owns all its servers and is highly-regarded for its proprietary Chameleon™ scrambling feature that goes the extra mile to keep your location hidden.
This provider currently offers over 700 servers with locations in each continent. Other than the standard 256-bit AES encryption, VyprVPN includes things like dynamic server switching which means you won't be subjected to an overloaded server. It doesn't log any user data or personally identifiable information.
VyprVPN ships apps for Windows, MacOS, iOS, and Android. A single account will enable five simultaneous connections. Customer support is only via service tickets, unfortunately.
Pros:
Excellent speeds
Military-grade encryption and logs no identifiable information
Works in China
Cons:
Two-tier pricing structure
A slightly lower server count
STAY HIDDEN ONLINE:VyprVPN protects your account by offering a leak-proof connection to access Zoom video calls. Stringent encryption and well-designed apps round up the offering. All plans come with a 30-day money-back guarantee.
For more details have a look at our full VyprVPN review.
VyprVPN Coupon
SAVE 44% on the annual plan
Get Deal >
Discount applied automatically
---
Should I use a free VPN to access Zoom in China?
The Chinese government doesn't have a kind view of VPN use. While the practice isn't illegal, most VPNs are blocked in mainland China because of the lack of formal registration with the government. Lots of paid VPN services struggle to work around the filters put in place by state engineers, but it's highly unlikely that a free VPN will have the resources to do the same.
Free VPNs ship with a sprinkling of servers, non-existent customer support, and lax security and privacy standards. They don't hold themselves accountable to the lofty standards put in place by paid services and aren't actively prioritizing user interests.
Such providers have engaged in spurious practices in the past, including things like forcefully inserting malware in user devices, leveraging idle user bandwidth to build botnet armies, and injecting tracking cookies to mine data. These constitute ways to monetize the traffic they generate; after all, even free VPNs need to make money to pay for operational costs and salaries.
If you plan on using Zoom in China, it's likely for an uninterrupted and seamless video call. This is only possible with a VPN that offers high-speed servers, unlimited bandwidth, and no data caps. Free VPNs don't rank positively on any of these factors. That's why it's in your best interest to shelve the option of using one. It's best to stick to a paid service for peace of mind.