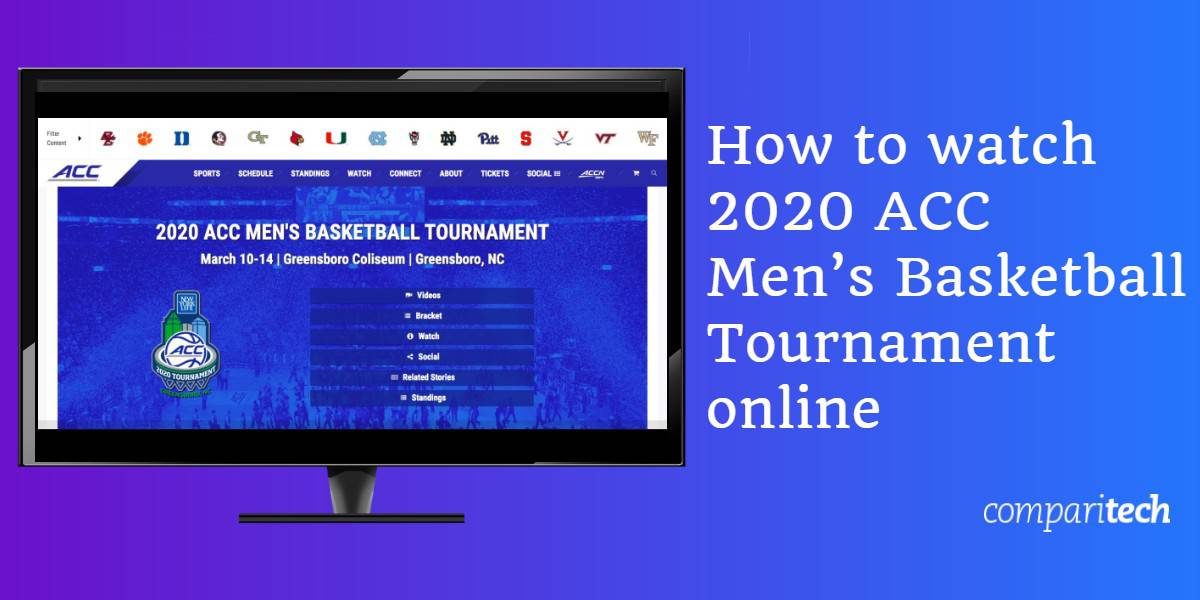 The ACC Men's Basketball Tournament 2020 will take place from Tuesday, March 10, to Saturday, March 14. This will be the 67th annual edition of the tournament and will be held at Greensboro Coliseum in Greensboro, North Carolina. Now, you should note that the services showing the ACC tournament 2020 are geo-restricted. This means you'll need to connect to a Virtual Private Network (VPN) to watch them abroad (outside the US).
We'll only be recommending official sources for watching the ACC Tournament. Unlicensed streams of sporting events are common but run the risk of being taken offline for violating copyright. Furthermore, they're usually low resolution and frequently have performance problems including excessive lag and buffering. With plenty of legitimate ways to watch the 2020 ACC tournament online, from abroad, there's no reason to resort to unlicensed sources.
The 2020 ACC Men's Basketball Tournament will only be shown on region-locked platforms. You'll need to use a VPN to watch it on your usual streaming services while abroad.
How to watch ACC Tournament live online with a VPN
Not sure how a VPN can help you live stream the ACC Basketball Tournament 2020? Simply put, VPNs can change your IP address and make it look like you're in another country. For instance, by connecting to a US server, you can unblock US-only services while abroad.
Here's how to watch the ACC Tournament 2020 live stream online from anywhere:
First, sign up with a reputable VPN service. We recommend ExpressVPN. However, NordVPN and CyberGhost also unblock ESPN and offer excellent value for money.
Next, you should download and install the appropriate VPN app for your device. The above VPNs also offer browser extensions for Chrome and Firefox.
Open the VPN app and connect to a server in the United States. This is how you obtain a US IP address for unblocking ESPN abroad.
Go to ESPN (or a streaming service that offers ESPN) and select a live stream. The content should now play without restriction.
If the content is still geo-blocked, clear your browser's cache and cookies. You could also try connecting to another US server in the event that your IP address is blacklisted.
The ACC Tournament 2020 will be broadcast live online. That's why it's a good idea to test your VPN with ESPN (or alternative streaming service) in advance. You then have enough time to get in touch with your VPN's customer support for further assistance if required.
How to live stream the ACC Tournament 2020 online on US TV
The ACC Tournament 2020 will be shown on ESPN. If you have a US cable TV subscription, you'll only need to sign in via your TV provider in order to watch online. However, you can also watch ESPN without cable by signing up for one of the following streaming services: AT&T TV Now ($65 USD/month), Hulu with Live TV ($54.99/month), Sling TV ($30/month), and YouTube TV ($49.99/month).
It's worth knowing that the ACC Basketball Tournament will also be available on ACC Network (ACCN). Like ESPN, it's possible to get ACCN as part of your US cable TV subscription. However, ACCN is also available without cable via all of the streaming services listed above. Whether you're streaming ESPN or ACCN, you'll need a US IP address via a VPN in order to watch from abroad. ExpressVPN unblocks ESPN and includes a 30-day money-back guarantee, allowing you to try it out risk-free.
Where else can I watch the ACC Basketball Tournament 2020?
Fortunately, you can watch the ACC Basketball Tournament 2020 from many countries worldwide.
Here's how to watch the ACC Basketball Tournament 2020 from outside the US:
It's possible to watch ESPN outside the US via ESPN Player. Indeed, this streaming service is available across Europe, the Middle East, Africa, and parts of Asia. It costs £9.99 (€11.99) per month or £69.99 (€79.99) annually and includes a 7-day free trial. If you're in a country in which ESPN Player is not available, you can still watch the 2020 ACC Men's Basketball Tournament by connecting to a VPN server in a supported country such as the UK.
What should I know about the ACC Tournament?
The conference championship tournament for the Atlantic Coast Conference (ACC), the ACC Men's Basketball Tournament has been held annually since 1954. This is a single-elimination tournament with seeding based on regular-season records. The winner of the tournament is declared the conference champion and receives the conference's automatic bid to the NCAA Men's Basketball Tournament. The 2020 tournament is to be held at Greensboro Coliseum in Greensboro, North Carolina.
Who is the favorite to win the 2020 ACC Tournament?
The top-ranking teams from the 2019-20 ACC season are Louisville (24-6), Florida State (24-5), and Duke (24-6). It's hard to see past Duke, which is the most successful team in the tournament's history having won it on 21 occasions. Indeed, the Duke Blue Devils are the current champions following their 2019 success.
ACC Men's Basketball Tournament 2020 Schedule
| Round | Date | Game | Time | Teams |
| --- | --- | --- | --- | --- |
| First Round | March 10 | Game 1 | 4.30 PM EST | No. 12 seed vs. No. 13 seed |
| First Round | March 10 | Game 2 | 7 PM EST | No. 10 seed vs. No. 14 seed |
| Second Round | March 11 | Game 3 | 12 PM EST | No. 8 seed vs. No. 9 seed |
| Second Round | March 11 | Game 4 | 2 PM EST | No. 5 seed vs. Game 1 winner |
| Second Round | March 11 | Game 5 | 7 PM EST | No. 7 seed vs. No. 10 seed |
| Second Round | March 11 | Game 6 | 9 PM EST | No. 6 seed vs. Game 2 winner |
| Quarterfinals | March 12 | Game 7 | 12.30 PM EST | No. 1 seed vs. Game 3 winner |
| Quarterfinals | March 12 | Game 8 | 2.30 PM EST | No. 4 seed vs. Game 4 winner |
| Quarterfinals | March 12 | Game 9 | 7 PM EST | No. 2 seed vs. Game 5 winner |
| Quartefinals | March 12 | Game 10 | 9 PM EST | No. 3 seed vs. Game 6 winner |
| Semifinals | March 13 | Game 11 | 7 PM EST | Game 7 winner vs. Game 8 winner |
| Semifinals | March 13 | Game 12 | 9 PM EST | Game 9 winner vs. Game 10 winner |
| Final | March 14 | Game 13 | 8.30 PM EST | Game 11 winner vs. Game 12 winner |