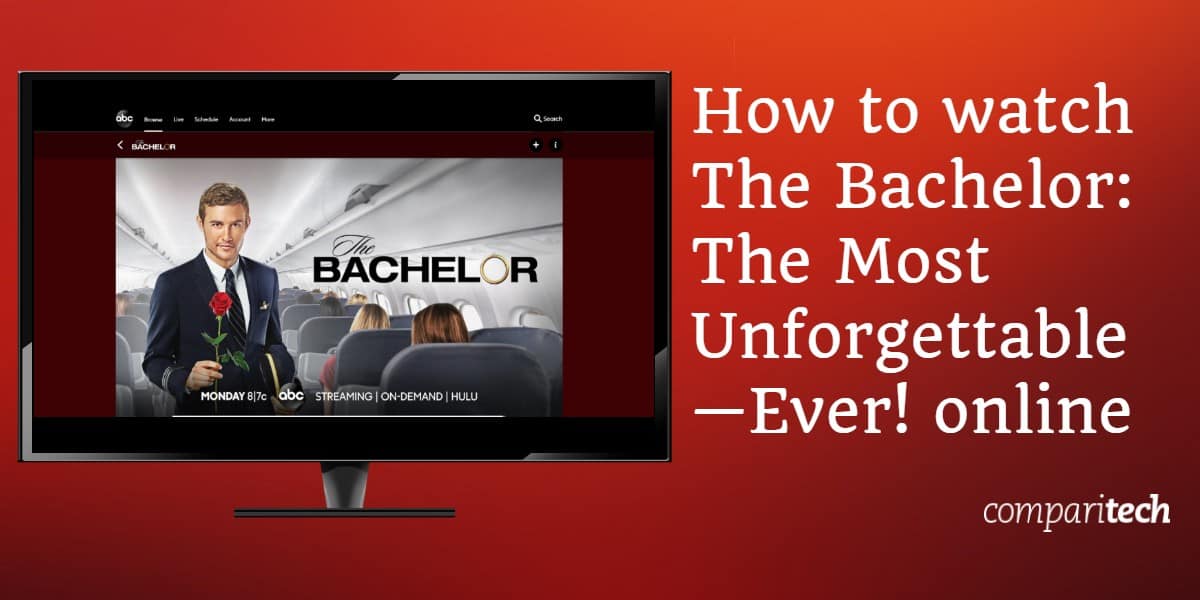 There's a new series of The Bachelor coming but things are a little different this time around. The Bachelor: The Most Unforgettable—Ever! (or, alternately, The Greatest Seasons – Ever!) will be a clip show focusing on the most memorable moments from previous seasons. It'll premiere June 8 at 8 PM EST (5 PM PST) and will run for ten episodes. Read on to find out how to live stream The Bachelor: The Most Unforgettable—Ever! online, even if you're abroad (outside of the US).
You should note that we'll only be recommending official sources. The Bachelor is a wildly popular show, which means that unauthorized streams are almost inevitable. That said, we advise against using them: to begin with, the video quality tends to be very poor, and further, unlicensed streams can be quickly taken offline for copyright violation. With plenty of ways to watch The Bachelor: The Most Unforgettable—Ever! legitimately, there's no need for shady, third-party streams.
This show will only be available on region-locked streaming services. This means that if you're abroad, outside of the US, you'll need a VPN to connect to your usual home streaming services.
How to watch The Bachelor live online from abroad
Generally, streaming platforms find out which country you're in by checking your IP address. By connecting to a VPN, though, you can switch your IP address to one that originates in another country. This means that you can, for instance, use an American VPN server to access US-based streaming services abroad. It's simpler than it sounds; just follow the steps below.
Here's how to watch The Bachelor online free from anywhere:
First, sign up for a reputable VPN provider. We recommend ExpressVPN but NordVPN and CyberGhost are two excellent, low-cost alternatives.
Now, download and install the VPN app. Note that there are usually a few different versions so make sure to get the appropriate app for your device,
Log in and connect to one of your VPN's American servers. The city you choose doesn't really matter, but for the fastest speeds, we recommend using servers in whichever city is closest to you.
Visit the ABC website and log in. You should now be able to watch The Bachelor from outside of the US, without any problems. If you can't, try clearing your cookies and refreshing the page.
The Bachelor will air live each week. For this reason, we recommend taking a few minutes ahead of time to ensure that your VPN works as expected. This way, if you have any trouble, you'll have plenty of time to get help from your VPN's customer support team.
How to watch The Bachelor live on US TV
The Bachelor: The Most Unforgettable—Ever! will air exclusively on ABC. This means that, if your cable package already includes this channel, you can just log in and watch every episode live, completely free of charge. Looking to stream The Bachelor without cable? In that case, you have two options.
The first is simply to wait an extra few hours. New episodes are added to ABC's on-demand library the day after they air, and these can be watched without having to sign in. There's no rush either since they won't leave the service until around a month later.
Alternatively, you could sign up for an over-the-top service like Hulu with Live TV, YouTube TV, or AT&T TV Now. Although each of these comes with a free trial, they aren't long enough to watch the whole series, and as such, you'll have to pay eventually. Given the high price (ranging from $49.99–65 USD per month), most people would be better off just watching on-demand.
All of the services above are geo-blocked. This means that you'll have to either be in the US or connected to an American VPN server to use them. ExpressVPN offers a 30-day money-back guarantee meaning you can try it risk-free.
Where else can I stream The Bachelor online?
Many countries now have their own regional spinoffs, so the US version of The Bachelor won't see a wide international release. However, it will air in Canada. Take a look below to find out how you can watch:
Canada
The Bachelor: The Most Unforgettable—Ever! will air at the same time in Canada as it does in the US; Citytv will show new episodes every week at 8 PM EST / 5 PM PST. If you plan on watching The Bachelor live online, you're in luck since you won't even have to create an account.
The downside is that you'll need a Canadian TV subscription to watch anything on-demand, which makes missing an episode particularly devastating if you don't have cable.
Citytv is only available in Canada. As such, if you're abroad, you'll have to use a VPN to stream The Bachelor online.
How will this season work?
Usually, The Bachelor actually has quite a simple premise. A single man (the bachelor) tries to find a wife from the pool of participants. To do so, he'll spend time with each of them, either one-on-one or as part of a group date. At the end of each episode, he presents the women he'd like to stay with a rose, while the others are eliminated.
This time around, things will be significantly different. There'll be no actual competition this year, and instead, host Chris Harrison will interview previous contestants (virtually, of course) and show highlights from the first 24 seasons. If you're new to the series and don't relish the idea of watching quite so many episodes, The Bachelor: The Most Unforgettable—Ever! will be a great place to start.