The English Premier League, or EPL, may be overwhelmingly popular and growing at a rapid rate outside of the UK, but that doesn't mean access is easy. Thankfully, you can watch the Premier League online using various methods.
Great options include cord-cutting services that stream the EPL on Kodi and a variety of other ways to watch online. Kodi is a free and open source media player and entertainment hub. Kodi can be used on everything from the Amazon Firestick, iPhone, Mac, Android TV boxes, Apple TV and more. The real power of Kodi comes from its user-installed add-ons that stream content directly to the viewer.
When selecting a Kodi add-on to watch your Premier League game, it's important to be aware of which add-ons offer up official content and which deliver unofficial streams. Thus our guide will not only recommend official Kodi add-ons but provide you with an overview of third-party add-ons you should steer clear of to avoid nasty malware and legal issues.
Comparitech does not condone or encourage any violation of copyright restrictions, including illegal streaming through Kodi. Kodi can be used for many excellent, legal online streaming purposes. Please consider the law, victims, and risks of piracy before downloading or streaming copyrighted material without permission.
How to watch Premier League online safely and privately
With so many different ways to watch the Premier League, some security and safety risks do occur, especially for those that turn to Kodi. A virtual private network, or VPN, is often recommended both for those watching Premier League through Kodi, and for those outside trying to gain access to Premier League games that are geographically locked.
With a Virtual Private Network, your web traffic is encrypted and rerouted through a server in a location of your choice, which ultimately hides your location and identity. Whether you're using official or unofficial Kodi add-ons, streaming live TV sources through Kodi may not be permissible by your internet service provider. Internet service providers even have the ability to throttle speeds for customers using video streaming services.
When you download and run a Kodi add-on, you're often doing so through unsecured connections. The add-on can be threatened by a hijacker and used to monitor your internet data, steal passwords and usernames, and even to access your computer hard drive. To avoid these threats, a VPN is recommended when using Kodi.
A VPN will keep your data secure and unexposed when streaming. And because streaming requires a large amount of bandwidth, we recommend using a reliable, fast, and secure VPN provider such as IPVanish.
IPVanish is a popular choice with the Kodi community and provides a sturdy connection, a great amount of capacity, and superior privacy protection so your ISP can't snoop on you. It works with all Kodi add-ons we have tested and is one of the few VPNs fast enough to prevent buffering problems.  
Reader deal: save up to 60% on IPVanish plans here.
Outside of Kodi, a VPN can help you gain access to geographically-locked streaming services and sites. Particularly with Premier League games, streaming services often lock content to certain regions. Using a VPN you can open up those geo-locked services and watch live video more easily. If you don't want to use IPVanish we have a full round up of the best VPNs for Kodi.
Premier League online without cable
There are many alternatives you can turn to if you don't have access to cable. These alternatives are safe to use and provide access to your football games legally and without the need for cable.
FuboTV
FuboTV is a video player app that provides users with live streaming from any device including Android phones, tablets, iPhones, and more. You can watch live sports directly online with this app as it has access to many sports channels such as NBC Sports Network, where you can watch Premier League matches. The app is available on Roku and any Apple or Google Play store. There is a free trial of FuboTV here.
Sling TV
Often called "A la carte TV," Sling TV is an internet service, created by Dish Network, that streams almost any channel you want. If you want to avoid ever missing a game again, this is the service for you. With Sling TV, users can choose which channels they want to stream, meaning you can select channels like NBCSN and NBC that air Premier League games and stream them on your TV screen, all for a small monthly fee.
PlayStation Vue
PlayStation Vue is Sony's live stream television service that provides you the opportunity to watch any sport, TV show, or news broadcast. With PlayStation Vue, you can watch all the Premier League games you want as this live stream service comes with a digital DVR. The service is able to be purchased for a small monthly fee without the commitment to an annual contract. It is important to note that, currently, if you want to view Premier League games through PlayStation Vue, then you will have to pay an additional fee for a Premier League pass on top of the subscription for this streaming service.
Sportsnet Now
Available on Kodi, this streaming service provides live access to any sports game you want to watch. You can live stream Premier League, FA Cup, Bundesliga, AVIVA, NHL, MLB, NBA and more! The difference between the Kodi add-on and the Sportsnet service is that you can access the service version on multiple devices such as an Apple TV, an Xbox, or on a smartphone. This service, however, is exclusively for Canadian residents.
NBC Sports Gold
The NBC Sports Gold app provides live coverage of various sports organizations, essentially Premier League matches. Directly connected with NBC, on this app users can have exclusive access to 130 Premier League games. This app can be downloaded and used with any phone or TV application including the Apple store, Google Play, Xbox One, and Amazon FireTV. All you'll need to do is create an account and purchase a Premier League pass for only $50, and you can live stream a plethora of Premier League programs straight from the app.
DIRECTV NOW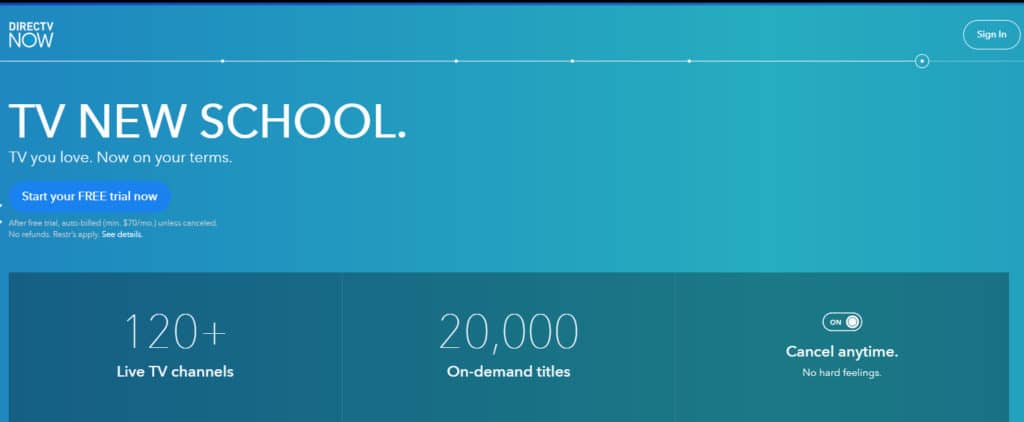 A streaming package that's similar to cable television, but without the hefty expense and annual contracts. DIRECTV NOW offers live streaming plus On Demand features that you can access on your TV, computer, or smartphone. For Premier League fans, the service allows you to watch all of the games across NBCSN, CNBC, and USA. You can select all the sports channels you want to live stream and cancel the package at any time.
HULU Live
HULU Live is a streaming service that allows you to watch live TV and stream On Demand anytime. You can access your HULU Live service from any device and the service is available as an app on your phone. With HULU Live, Premier League fans can instantly stream and watch Barclays Premier League online. Best of all, you can watch the Premier League anywhere you want and whenever you want for a reasonable monthly fee.
See also: The best VPNs for Hulu.
Official Kodi Add-Ons for Premier League 
If you want to catch a Premier League game on Kodi, you can search for related add-ons through the official Kodi Add-On Repository as well as other locations. We recommend the following selection of add-ons because they are far less risky than some of the alternatives. These add-ons are legal and do not provide pirated content.
BBC iPlayer
With the BBC iPlayer add-on, users can watch Premier League games live, catch-up on other TV programs, and even listen to radio content. This add-on is available through the Official Kodi Add-on Repository. It is only available in the UK and requires a valid BBC TV License. Additionally, a UK IP address is necessary to view content on iPlayer and by extension the iPlayer WWW add-on. If you are a UK resident, but you're traveling abroad, then a VPN is recommended to change your IP address to one from the UK.
See also: How to use BBCiPlayer on Kodi.
Sportsnet Now
After signing up for the service, Kodi users can access this popular add-on that streams live access to all Sportsnet feeds 24/7 in Kodi, from the SuperRepo Repository. Although you won't be able to view the actual Premier League game, users can get caught up with all the game details with this news add-on that features highlights, wins and losses, and player stats. This add-on is only available in the UK.
Unofficial Kodi Add-ons for Premier League
Though they may be popular and boasted positively by other sites, third-party add-ons not found in the Official Kodi Add-on Repository or another legitimate library often contain pirated content that isn't safe for viewing. Mentioned below are a few add-ons that we found that contain pirated which we recommend are avoided.
cCloud TV
What is it: cCloud TV is an add-on that gives Kodi users access to various types of content, including sports. Most content, however, is scraped from a number of different online sources, most of which are pirated.
Why you should avoid it:  Though cCloud TV does have a few legal options, they are specifically limited to countries that do not limit rebroadcasting. However, the most popular sports streams, such as those from the US, UK, and Canada, are not rebroadcast legally.  cCloud TV focuses more on pirated streaming which is why we don't recommend this add-on for Kodi users.  
GoodFellas 2.0
What is it: Goodfellas 2.0 is an IPTV Kodi add-on that gets its live streams from a variety of sports channels. These streams, however, are acquired through websites that obtain the content from sketchy sources.
Why should you avoid it: As an IPTV add-on, pretty much none of Goodfellas' content is free of pirated content. This add-on strictly provides pirated streams and doesn't have rights to any official rebroadcasting from the copyright holders. We recommend using an official add-on such as those listed above.
Quantum
What is it: Quantum is a huge Kodi add-on that made up of various other add-ons. The developers behind Quantum search and pick up other add-ons that have lost their developer support. Although most streaming in Quantum is live TV,  the add-on does have the ability to perform on-demand streaming, meaning users have the option to watch football games live or "on-demand."
Why should you avoid it: Quantum is not recommended for the same reasons as the prior mentioned third-party add-ons. Although Quantum contains some legal options its specialty relies on pirated streaming. There are hardly any streams available in Quantum that are streamed with proper rebroadcasting rights. For those reasons, we recommend turning to another sports add-on that is free of pirated content.
SportsDevil
What is it: Sports Devil is a popular add-on for Kodi that is more of a streaming supplier. The add-on provides you with access to several streaming websites and links per category. For example, if you look under the add-on's "Sports TV" section, you will be provided multiple links to different websites that would give you access to a Premier League game. Content streamed through this add-on is often nonfunctional with its links leading to the same website and content.
Why should you avoid it: This add-on, with its faulty streaming links, also streams pirated content, for the most part. We don't recommend using this add-on for that reason and also because you will run into many problems trying to view your Premier League games, as many of the links are broken.
SportsAccess
What is it: SportsAccess is a streaming add-on that provides users with access to premium live sports (like the Premier Leagues games), sport event schedules, Pay-Per-Views, and more. For this add-on, a monthly fee is required and users can only pay for this service through Bitcoin.
Why you should avoid it: The fact that this service can only be purchased through Bitcoin is enough to send red flags. When you purchase through Bitcoin, it is a peer-to-peer transaction with no intermediary, which is why many black markets use Bitcoin. SportsAccess also engages in pirated streaming, with most of its "premium" content being from pirated sources. For that reason, we recommend not using this add-on to watch Premier League matches.  
Bennu
What is it: Formerly called Phoenix, Bennu is a popular add-on that supports a multitude of streaming sites called "Playlisters." Each playlister has their own niche of content, from sports games to movie and TV specialty sections to documentaries and music. Users can select the appropriate playlister to watch Premier League games.
Why you should avoid it: Just like Sports Devil and Sports Access, the Bennu add-on has problems with its content. Users have found that most of the streaming sites have problems running correctly, don't provide content at all, and stream pirated content. We recommend not using this add-on to avoid watching the Premier League through a pirated stream. It is best to go with an alternative sports add-on that does not pirate its content. You can read more here about the Kodi Bennu add-on and some official Kodi add-on alternatives.
We know how important it is to watch a Premier League game and how exciting it is to watch the football game right from your television screen at home or on your smart device. With Kodi, viewers that do not have cable access are free to watch sports, so long as they have the correct Kodi add-ons. To get the best experience out of Kodi and your game, it is most recommended to select and install only the sports add-ons that offer content legally and are directly available from trusted repositories on Kodi.