The English Premier League, or EPL, may be overwhelmingly popular and growing at a rapid rate outside of the UK, but that doesn't mean access is easy. Thankfully, you can watch the 2021 Premier League online through a number of channels, including some Kodi add-ons. In this article, we'll show you cord-cutting options both on and off Kodi.
When selecting a Kodi add-on to watch the next Premier League game, it's important to be aware of which add-ons offer up official content and which deliver unofficial streams. Our guide will not only recommend official Kodi add-ons but provide you with an overview of third-party add-ons you should steer clear of to avoid nasty malware and legal issues.
The services showing EPL matches are geo-restricted, which means you'll need a VPN if you want to watch your usual streams while traveling abroad.
Comparitech does not condone or encourage any violation of copyright restrictions, including illegal streaming through Kodi. Kodi can be used for many excellent, legal online streaming purposes. Please consider the law, victims, and risks of piracy before downloading or streaming copyrighted material without permission.
How to watch Premier League online safely and privately
With a Virtual Private Network, your web traffic is encrypted and rerouted through a server in a location of your choice. This improves your online privacy while also allowing you to access content not available in your physical location, so you can access your usual home streaming services when traveling abroad. 
Because streaming requires a large amount of bandwidth, we recommend using a reliable, fast, and secure VPN provider such as IPVanish.
IPVanish is a popular choice with the Kodi community. It provides a sturdy connection, a great amount of capacity, and superior privacy protection so your ISP can't snoop on you. It works with all Kodi add-ons we have tested and is one of the few VPNs fast enough to prevent buffering problems.  
Reader deal: save up to 60% on IPVanish plans here.
With so many different ways to watch the Premier League, some security and safety risks do occur, especially for those that turn to Kodi. A virtual private network, or VPN, is often recommended both for those watching Premier League through Kodi, and for those outside trying to gain access to Premier League games that are geographically locked.
Kodi add-ons, even the official and legal ones, are often maintained by third parties unaffiliated with both Kodi and and the streaming service. That means the developers can push malicious updates to users. A VPN can help prevent malware add-ons from snooping on or hijacking your connection.
Premier League online without cable
If you don't have access to cable, there are plenty of official streaming services that show live Premier League games. These alternatives are safe to use and provide access to football games legally and without the need for cable. Many of them include free trials, so you can watch for free for a limited time.
FuboTV
FuboTV is a sports streaming service that provides users with live video on any device including Android phones, tablets, iPhones, and more. It has access to many sports channels such as NBC Sports Network, where you can watch Premier League matches.The app is available on Roku and any Apple or Google Play store. Check out the free trial of FuboTV here.
Fubo TV is available in several countries, but be sure to check the channel list for your specific country to ensure you can watch the Premier League. You could also switch countries with a VPN.
Sling TV
Often called "A la carte TV," Sling TV is an internet service, created by Dish Network, that streams almost any channel you want. If you want to avoid ever missing a game again, this is the service for you. With Sling TV, users can choose which channels they want to stream, meaning you can select channels like NBCSN and NBC that air Premier League games and stream them on your TV screen, all for $35 per month. Unfortunately, Sling TV is no longer offering a free trial.
You'll need the Sling Blue package to get the channels that live stream Premier League. Sling TV is only available in the USA, so you'll need to use a VPN to access it from outside the country.
Sportsnet Now
Available on Kodi, this streaming service provides live access to any sports game you want to watch. You can live stream Premier League, FA Cup, Bundesliga, AVIVA, NHL, MLB, NBA and more! The difference between the Kodi add-on and the Sportsnet service is that you can access the service version on multiple devices such as an Apple TV, an Xbox, or on a smartphone.
Sportsnet Now is exclusively for Canadian residents, but you can access it from outside the country with a VPN.
AT&T TV NOW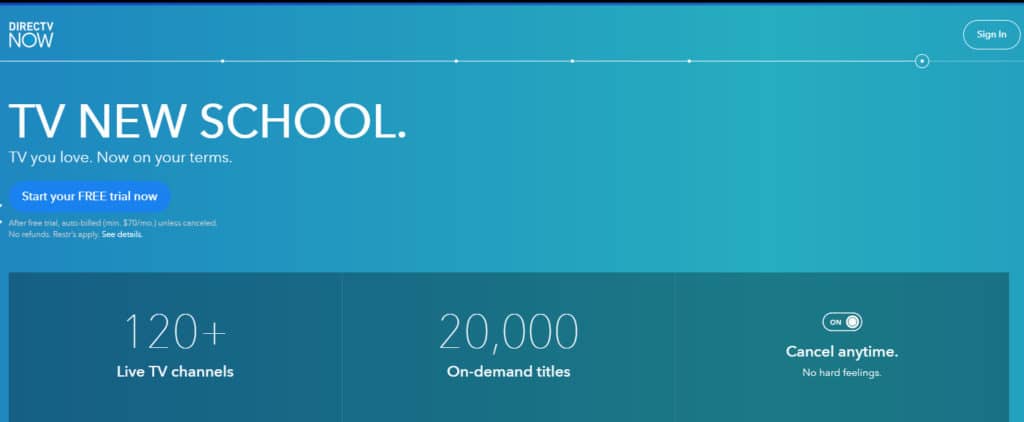 A $70-per-month streaming package that's similar to cable television, but without the hefty expense and annual contracts. AT&T TV NOW (formerly DirecTV NOW) offers live streaming plus On Demand features that you can access on your TV, computer, or smartphone. For Premier League fans, the service allows you to watch all of the games across NBCSN, CNBC, and USA Network. You can select all the sports channels you want to live stream and cancel the package at any time.
Hulu plus Live TV
With Hulu + Live TV, Premier League fans can instantly stream and watch live matches online. After a 7-day free trial, it costs $65 per month. It has all of the necessary channels to catch every Premier League game from start to finish. It's only available in the USA, though, so you'll need a VPN if you're travelling internationally.
See also: The best VPNs for Hulu.
Youtube TV
Youtube's live TV offering includes all of the channels you need to watch Premier League games as they happen, including NBC, NBCSN, USA, Network, and CNBC. Prices start at $65 per month, and there's a 14-day free trial on offer at time of writing. Youtube TV is only available in the USA, though, so you'll need a VPN if you're traveling elsewhere.
There's no Kodi add-on yet, but some users have reported success accessing Youtube TV through a Kodi web browser add-on.
Peacock
NBC-owned streaming service Peacock now livestreams Premier League games. Cox and Comcast Xfinity subscribers can log in and stream at no extra charge. For the standalone streaming service, prices start at $5 per month or $50 per year, and double that if you want to watch without ads. No free trial. Peacock is only available in the USA, so use a VPN if you want to stream it while abroad.
Peacock also offers full on-demand replays. It's a newer service, so there's no official Kodi addon yet, but stay tuned.
Official Kodi Add-Ons for Premier League 
If you want to catch a Premier League game on Kodi, you can search for related add-ons through the official Kodi Add-On Repository as well as other locations. We recommend the following selection of add-ons because they are far less risky than some of the alternatives. These add-ons are legal and do not provide pirated content.
BBC iPlayer
With the BBC iPlayer add-on, users can watch Premier League games live, catch-up on other TV programs, and even listen to radio content. This add-on is available through the Official Kodi Add-on Repository. It is only available in the UK and requires a valid BBC TV License. Additionally, a UK IP address is necessary to view content on iPlayer and by extension the iPlayer WWW add-on. If you are a UK resident, but you're traveling abroad, then a VPN is recommended to change your IP address to one from the UK.
See also: How to use BBCiPlayer on Kodi.
Sportsnet Now
After signing up for the service, Kodi users can access this popular add-on that streams live access to all Sportsnet feeds 24/7 in Kodi, from the SuperRepo Repository. Although you won't be able to view the actual Premier League game, users can get caught up with all the game details with this news add-on that features highlights, wins and losses, and player stats. This add-on is only available in the UK.
Unofficial Kodi Add-ons for Premier League
Though they may be popular and boasted positively by other sites, third-party add-ons not found in the Official Kodi Add-on Repository or another legitimate library often contain pirated content that isn't safe for viewing. Some of those unsanctioned add-ons include:
cCloud TV
GoodFellas
Quantum
SportsDevil
Sports Access
Bennu
Using these add-ons carries significant legal and cybersecurity risks. You could be hit with a settlement letter demanding compensation for piracy, and your internet service provider could throttle your internet connection. Unofficial Kodi add-ons also carry a much higher risk of malware than those in the official repo.
We strongly recommend sticking to official, legal sources for streaming.