Planning ahead and using disk cloning software allows you to save the content of your drive to another hard drive, a cloud backup service, a USB stick or other external drive. This can save you time should you come across any system failures by being readily prepared to restore devices quickly.
Restoring from a previously known good backup means you don't have to re-install the operating system, software, and applications if a disk fails.
Network administrators also use disk cloning software when setting up multiple identical workstations on client machines.
Here is our list of the best disk cloning software:
NinjaOne Backup EDITOR'S CHOICE A cloud-based backup system that allows block-level disk copies or OS imaging as well as file and application backup strategies. Store repositories locally or on the cloud. Start a 14-day free trial.
Acronis Cyber Protect Home Office (FREE TRIAL) This package of security systems for desktops and laptops includes a backup system that can be used for replication and migration and it also has an antimalware system. Installs on Windows Server and macOS. Start a 30-day free trial.
Barracuda Intronis Backup (FREE TRIAL) This backup and disaster recovery system for MSPs can also be used to replicate servers. This is a SaaS system.
ManageEngine OS Deployer (FREE TRIAL) Copy, edit, store, and apply a disk OS with user profiles and settings. Runs on Windows Server.
Vembu BDR Suite (FREE TRIAL) This backup system is available as on-premises software for Windows Server and Linux or as a SaaS package. Start a 30-day free trial.
EaseUS Todo Backup Free hard drive cloning software for Windows that supports full, incremental, and differential backups.
Macrium Reflect Workstation Disk imaging software for Windows that can backup images to Microsoft Hyper-V virtual machines.
MiniTool Partition Wizard Free disk partition solution for Windows with a space analyzer.
Active@ Disk Image Disk Imaging software for Windows that's available as freeware or as a paid tool.
Iperius Backup Disk image backup software for Windows 10 that supports automatic cloud backups.
Clonezilla Open-source disk imaging software for Linux with encryption.
Paragon Drive Copy Professional Disk cloning software that can be used to create backups and partitions.
Symantec Ghost Solution Suite Disk imaging software that can deploy Windows, Mac, and Linux operating systems.
Related Posts:
The Best Disk Cloning Software
Our methodology for selecting a disk cloning tool for your network 
We reviewed the market for disk cloning systems and analyzed tools based on the following criteria:
A choice of storage location for images
Options for platforms between on-premises and cloud-based systems
An image library management system
The ability to install a disk image remotely and in bulk
Low impact on server processors
A free trial or a demo account that enables a no-risk assessment
Value for money that is created by a reasonable price for the services that are provided
With these selection criteria in mind, we looked for reliable disk imaging systems that will provide a way to backup, standardize and onboard device disks.
We ranked these products in terms of their ease of use, how powerful their features were and their overall usability and dependability.
NinjaOne Backup is a cloud-based service and one of the units on a platform that is designed to support managed service providers (MSPs). The system has a multi-tenant architecture, which keeps the settings and data of clients separated. The tool can manage the data protection strategy of multiple sites simultaneously.
Key Features
Clone a disk or just the OS
Backup files and applications
Store locally or in the cloud
Why do we recommend it?
NinjaOne Backup is an easy sell for any managed service provider. A basic technical support contract might not extend to cybersecurity measures but the value of backing up data should be very easy to understand for any client that has heard of ransomware.
You can include many sites in one account with the NinjaOne Backup system. The service is also designed to cater to remote workers. Those home-located devices can be backed up to the cloud and the users can access a self-service portal to trigger data recovery on demand. Administrators can automate backup processes and also use the system to take a disk image to set up new devices automatically from that copy.
Who is it recommended for?
The multi-tenant architecture of NinjaOne Backup means it is purpose-built for managed service providers. The fact that NinjaOne's main product is an RMM platform that this Backup service slots into, reinforces the recommendation that this tool is intended for use by MSPs.
Pros:
Automate data recovery processes
Manage multiple sites
Useful for in-house backups or MSP services
NinjaOne Backup is a subscription service. You need to arrange a bespoke quote so you don't pay for more than what you need. The best way to open a dialog with the NinjaOne Sales Department is to access a 14-day free trial.
EDITOR'S CHOICE
NinjaOne Backup is our top pick for disk cloning software because it offers a range of options over disk imaging that include the entire disk with all of its data or just the operating system with its settings. These different services can be used for backup or for device onboarding. For example, taking an image of the whole disk preserves all of its contents and can quickly be restored to the original device. OS imaging allows a standard setup to be made and stored so that it can be applied to new devices to get them rapidly made available for use with authorized configurations as well as the OS. This package is a cloud SaaS platform and it includes storage space for disk images. The service is multi-tenanted for use by managed service providers.
Download: Access 14-day FREE Trial
Official Site: https://www.ninjaone.com/freetrialform/
OS: Cloud-based
Related: Full NinjaOne Backup Review
Acronis Cyber Protect Home Office is an on-device software package for desktops and laptops that also calls in services from the Acronis cloud platform. This is a combined package that includes an anti-malware system and a backup and recovery service. The backup system can be used for migration and replication.
Key Features
On-device software for Windows and macOS
Support from a cloud platform
Anti-malware that is very effective against ransomware
Backup and recovery
Data migration and disk replication
Why do we recommend it?
Acronis Cyber Protect Home Office is a combination package of antimalware and backup service. That menu of services is ideal for protecting against ransomware. The backup service includes cloud storage for repositories, enabling destroyed endpoints to be easily replaced and revived.
There are three plans available for Acronis Cyber Protect Home Office: Essentials, Advanced, and Premium. You can use any cloud platform or remote in-house server for backup storage but the top two plans also include free space on the Acronis Cloud server. The Advanced plan gives you 500 GB of space and the Premium package provides 1 TB of space for free, with more available for a fee.
The combination of anti-malware and data backup offers great protection against ransomware. The system scans all files before they are added to the repository and that prevents ransomware from infecting backup storage. Data is scanned again as it is restored.
Who is it recommended for?
Although this is intended for use with home offices that doesn't means that it is just for personal use. Small businesses can grow from a home office and, thanks to virtual offices and Covid work-from-home solutions, even large businesses can have home-based workers.
Pros:
Remains very easy to use without sacrificing advanced features
Available for Windows and Mac, a great cross-platform solution
Supports both local and remote backup solutions
Can backup mobile devices via iOS and Android app
Creating a backup schedule takes just a few minutes
Great option for both home users and established businesses
Cons:
Advanced features may take time to fully learn and utilize
Acronis Cyber Protect Home Office is great for disk cloning software because this system can be used for backup, migration, and replication. On top of those functions, the Acronis service also includes an anti-malware system. This combination of services represents good value for money. It also simplifies the security of your desktop or laptop by providing a single dashboard for a range of services. The backup and recovery service, in conjunction with the anti-malware system, provides rock solid protection against ransomware. If you need to replicate a standard setup and install this on a fleet of desktops, you can use this software to perform that task.
Prices start at $49.99 (£36.47). You can start the 30-day free trial.
Related post: Best OS Imaging and Deployment Software
Intronis Backup is a product of Barracuda MSP and, therefore, is aimed as a service for managed service providers. This tool is specifically tailored to MSPs that support small and middle-sized enterprises.
Key Features
Built for MSPs
Based in the cloud
White labeled
Bare metal backup option
Why do we recommend it?
Barracuda Intronis Backup is a good option for MSPs and it is a very close competitor to NinjaOne Backup because this system is also part of an RMM platform. The package includes cloud storage space but an MSP can also choose to store a copy on their own servers or on the servers of their clients.
Intronis offers a number of ways to backup applications or VMs. However, if you want to clone a disk, it is the bare metal restore and server imaging services that would interest you. The restore options of this tool let you install the backup onto a new location, those replicating the original disk. The service can be white-labeled and its services are multi-tenanted to keep the operation of different clients separate.
Who is it recommended for?
Barracuda offers a platform of RMM and PSA services for MSPs and although it can be subscribed to as a standalone product, existing subscribers to Barracuda services will find this tool more appealing because it slots into the dashboard with which they are already familiar.
Pros:
A choice of plans that suit clients of different sizes
A full SaaS platform that includes storage space for backups
Integrates with RMM and PSA packages
Cons:
Backup storage space is fixed by the choice of plan
The three plans for Intronis Backup are called Basic, Premium, and Elite – all are charged per end client. The system is able to store backups locally as well as on the provided cloud storage. The Intronis Backup service is available on a 14-day free trial.
ManageEngine OS Deployer can be used for system security, device migration, onboarding, and configuration standardization. The tool takes an image of an OS for Windows, macOS, and Linux devices and it stores all user profiles, drivers, and system configuration with it. You can update an OS image before storing it as your definitive device settings.
Key Features
Takes the OS with drivers and configurations
Reapply to a wipeout unauthorized changes
Use to migrate or replicate
Why do we recommend it?
ManageEngine OS Deployer is a corporate solution for distributed teams. The service needs to be hosted on Windows Server, so you have to sort out the storage location for your repositories yourself. This is a great option for companies that don't want to entrust their corporate data to cloud services.
You can use the system to create a library of standard system configurations and then use that image for onboarding new devices. The service will also monitor endpoint configurations and raise an alert if one diverges from the stored image.
Who is it recommended for?
If you have a policy of running your services on your own servers and avoiding cloud providers, then this tool is your first choice. The ManageEngine system is designed to use secure internet connections to provide a backup service for remote workers. This means that you don't need to rely on each individual to ensure that data is protected from loss or corruption. The Free plan lets SMBs manage backups for four devices.
Pros:
Free version for four workstations and one server
Can operate for multiple sites and remote worker devices
Driver management
ManageEngine packages OS Deployer in three plans: Free, Standard, and Professional. The Free edition is limited to managing four workstations and one server. The Standard edition is suitable for use on a single network and the Professional edition will extend coverage to remote locations. OS Deployer installs on Windows Server and you can assess it with a 30-day free trial.
Vembu BDR Suite provides a range of editions that each specialize in backing up a different type of asset. There are two editions that can provide disk cloning. There are Vembu BDR Server and Vembu BDR Endpoint. As well as providing full disk backups, these editions can be set up to back up specific partitions and offer options for file-level backup, and application-aware backups.
Key Features:
Disk or partition cloning
File or application backup
Recovery, migration, and replication
Why do we recommend it?
Vembu BDR Suite is a flexible backup system that can protect whole servers running Windows Server or Linux or workstations running Windows, macOS, or Linux. This system is available for on-premises installation or as a SaaS package. You can buy the software outright or pay for an annual subscription.
The Vembu deal doesn't include cloud storage space for repositories. However, it can create multiple backups with a local copy for fast recovery and a cloud backup for security. The backup can be restored to a different computer in the event that the original computer was destroyed. This tool can also be used to store a standard setup for endpoints and then using it to onboard new devices.
Who is it recommended for?
Small businesses will be drawn to this service because both the Server and Endpoint editions have a free tier, each of which will back up 10 devices. The paid system is priced per host, which makes it very scaleable. Pay for the software outright or opt to pay for it on an annual subscription.
Pros:
Scaleable per-host pricing
Options to backup a disk, a partition, files, or application data
Backup to tape, SAN, NAS, Azure, AWS, GCP, or Wasabi
Cons:
Cloud storage space for repositories is not included
The Vembu BDR system can be downloaded onto Windows Server or Linux. And it is also available as a SaaS package.  You need to organize your own storage space for your repositories. Vembu offers all editions of BDR Suite for a 30-day free trial.
EaseUS Todo Backup is a free disk cloning tool that allows you to back up your data in one-click. It supports full, incremental, and differential backups for Windows devices. Backups can be scheduled and in the event of a disaster, you can instantly recover your data.
Key Features
Free version
Option to backup applications
Operates on Windows
Why do we recommend it?
Not everyone reading this review is a business manager and home users should opt for the free edition of EaseUS Todo Backup to get top-quality protection for no money. Higher plans provide corporate services, so if you are a systems administrator, explore the EaseUS business options.
In the event that your system goes down, you can restore it without needing to re-install. The software supports a range of storage devices including HDD, SSD, RAID, USB drive, tape, FTP server, NAS, DVD, and more. In other words, you can back up your files to wherever is most convenient for your environment.
Who is it recommended for?
Home computers are often used for business purposes. If you are starting up your own business from home or if you freelance for big companies, your business data is at risk if you don't back up your home PC. This tool is also a very good option for private homes with no business purposes – you don't want to lose all of those stored photos.
Pros:
Free tool with paid options
Supports both incremental and differential backups
Supports multiple recovery mediums including RAID, USB, and NAS
Cons:
Only available for Windows, no cross-platform support
Interface can feel clunky at times
Might not be the best option for enterprise-level replication
EaseUS Todo Backup is ideal for users that want a free tool to back up their hard drive. It's easy to use and makes the backup process as fast as possible. It's available for Windows 10, 8.1, 8, 7, Vista, and XP. You can download the software for free.
Macrium Reflect Workstation is a disk backup platform for Windows designed to support enterprise users. You can back up computers and laptops to a compressed image file. When it comes time to restore your system, Rapid Delta Restore recovers your disk image in a matter of minutes.
Key Features
Operates on Windows
Choice of backup strategies
Compresses disk images
Why do we recommend it?
Macrium Reflect Workstation stores a copy of a disk as a VM image. So, you can recover very quickly for total data loss by booting off the image and using it as is. This strategy works better if you deploy Hyper-V to manage the process for you.
Live imaging of your computer makes sure that your disk images are kept up to date. The software also supports virtualization with Hyper-V. The user can boot backup images virtually with Microsoft Hyper-V virtual machines. Being able to boot back up images with Hyper-V gives you more options when it comes to restoring your device.
Who is it recommended for?
The Macrium system is reliant on hypervisor processes, so it is a particularly good solution for businesses that already deliver workstations through virtualization on a thin client model.
Pros:
Can rapidly compress machine data into image files for easy access or reinstallation
Supports live imaging, allowing it to backup during working hours
Can backup virtual disk drives in Hyper-V
Cons:
Enterprise pricing is a bit high compared to similar tools
Designed for technical users, not ideal for those new to backup software
Macrium Reflect Workstation is a solid solution for enterprise environments that require a reliable backup solution. Prices start at $75 (£58.50) per workstation for a perpetual license that never expires. There are also volume discounts for over 10 workstations. You can start a 30-day free trial.
MiniTool Partition Wizard is a free disk partition software for Windows that can migrate operating systems to a range of storage devices. Devices supported include HDD, SSD, SSHD, USB flash drive, external hard drive, SD card, Hardware RAID, and Dynamic disk. The user can create, delete, move and resize partitions.
Key Features
Free and paid versions
Useful for migration
Operates in the background
Why do we recommend it?
MiniTool Partition Wizard is free for home use and a paid package for businesses. This tool is very easy to understand because it copies backups onto a USB. It also offers a nice way to free up space by archiving big and rarely-used files.
The disk space analyzer feature is particularly useful for managing disk space as it allows you to see what files are filling up space on the hard disk. The space analyzer can help you to manage your hard disks more effectively and eliminate or move any files that are taking up unnecessary space.
Who is it recommended for?
This system is only available for Windows, so Mac and Linux users won't want it. It is a very good package for home users and small businesses. Larger corporations need a more comprehensive system than this.
Pros:
Supports full operating system migrations to new hardware
Can restore to multiple mediums such as RAID, USB, or SD card, giving you more recovery options
Can help analyze disk space prior to backups
Cons:
Is designed for home use, not ideal for larger companies
Marketed toward home use, but can be complicated for non-technical users
MiniTool Partition Wizard is a product that's aimed at home uses in the market for a disk partition solution. There are free and paid versions available. Paid versions add additional features like partition recovery and data recovery. Prices start at $59 (£46) per license. The software is available on Windows 10, 8.1, 8, 7, Vista, and XP. You can download the software for free.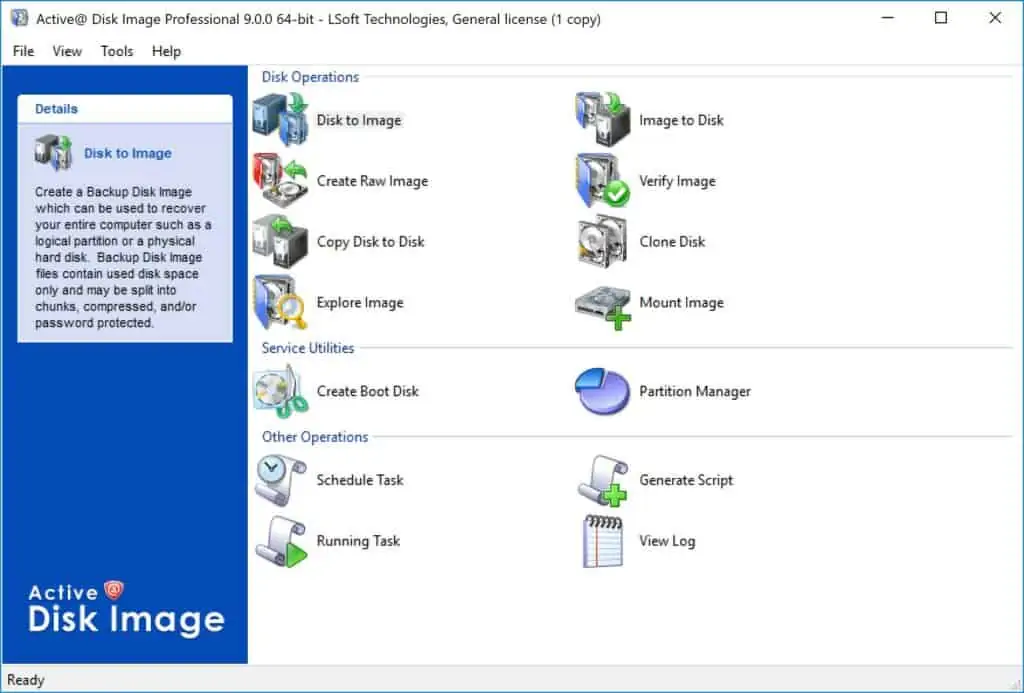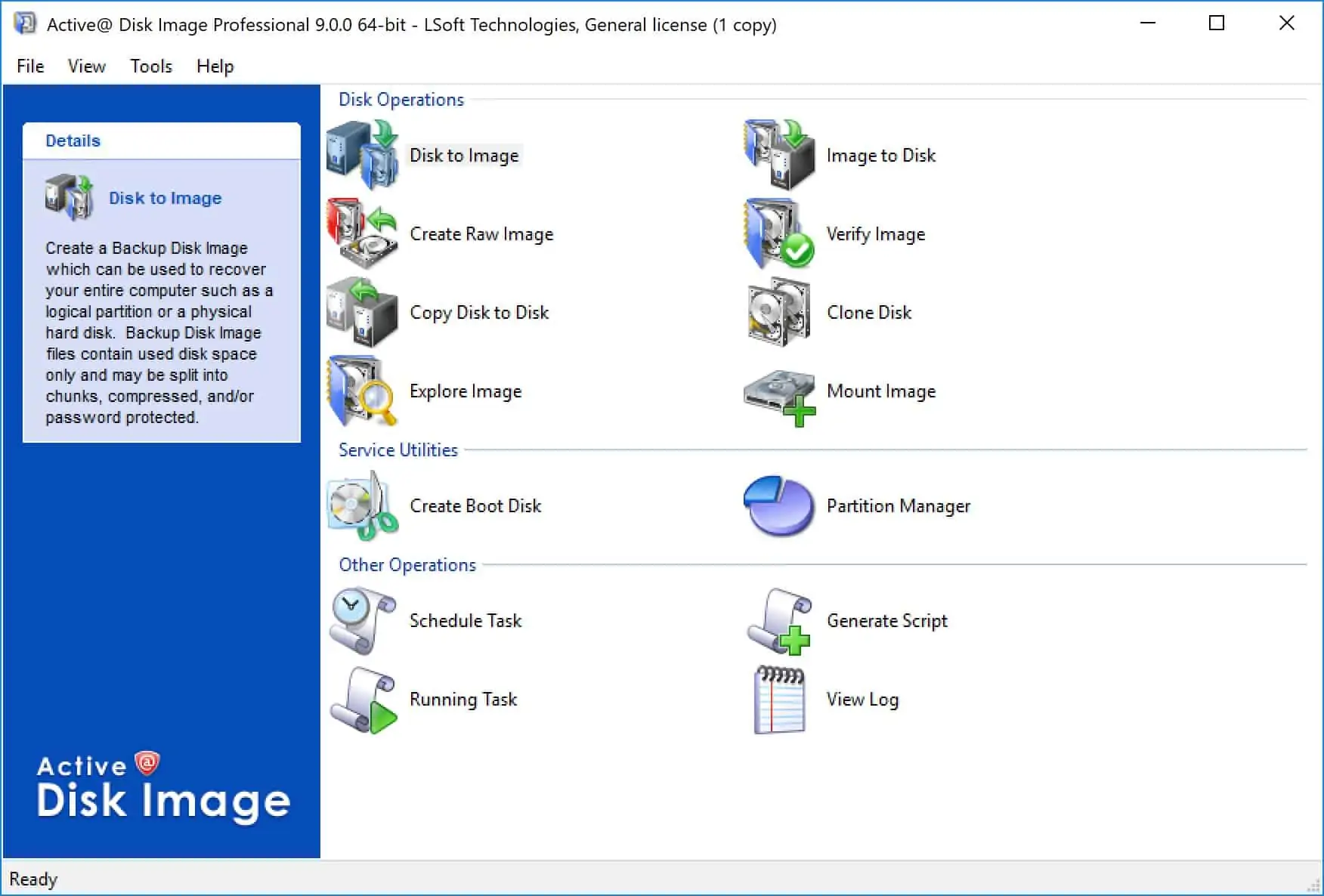 Active@ Disk Image is a disk image tool for Windows that can be used to copy and recover disk images. It supports storage devices including HDD, SDD, USB, CD, DVD, Blu-ray, and more. The software supports Windows XP, 7, 8, 8.1, Server 2003, Server 2008, Server 2012, Server 2016, Linux, FreeBSD, and Solaris.
Key Features
Operates on Windows, Linux, and Unix
Backup to removable storage
Offers storage encryption
Why do we recommend it?
Active@ Disk Image is a very close competitor to the MiniTool Partition Wizard. It would be unfair to recommend one without also mentioning the other and that's why both of these tools are on this list. Home users can get by with the freeware version.
The product is very easy to use, with the main menu wizard that breaks down all the disk operations you can conduct. Operations you can complete include Disk to Image, Image to Disk, Create Raw Image, verify Image, Copy Disk to Disk, Clone Disk, Mount Image, and more. Having all of this information in one place makes it easy to carry out the tasks you need to without getting confused.
Who is it recommended for?
Home users without business activities and small businesses, whether home-based or operating from a store or office would benefit from this tool. The software needs to be installed on each computer and that makes it a less attractive system for businesses with a large fleet of endpoints. The Acrive@ Disk Image system runs on Windows PCs. Other operating systems, such as macOS and Linux can be backed up and restored by booting the computer off a portable version of the tool – which isn't very convenient.
Pros:
Comes with a freeware version for testing
Supports image encryption for secure storage
Can recover and restore RAID systems
Cross-platform support with Windows, Linux, and FreeBSD
Cons:
A bit dated
Slightly higher learning curve when compared to tools like Acronis Cyber Protect
Active@ Disk Image is a low-cost disk cloning software alternative. It comes available as a freeware version that allows you to create and restore disk images, compress images, and mount images as virtual drives. Paid versions support additional features including RAID support and image encryption. Prices start at $39.00 (£30.42). You can download the free trial.
Iperius Backup is an image backup tool for Windows 10 that allows you to create disk images. Iperius Backup can clone drive images and send them to the cloud automatically. The software supports cloud services such as Google Drive, OneDrive, Dropbox, Amazon S3, Azure Storage, and more. Cloud backups are secured with AES 256-bit encryption to ensure your data is kept safe.
Key Features
Options include bare metal and application-level backup
Backup physical and virtual systems
Encryption for extracted images
Why do we recommend it?
Iperius Backup is an example of the type of tool that larger businesses should get instead of Active@ Disk Image or MiniTool Partition Wizard. This is a networked solution and will back up Windows PCs to cloud repositories and extract data back for recovery. Everything can be centrally managed.
One of the main strengths of Iperius Backup is that it can support a range of databases and virtual services. The tool can backup databases including Oracle, MySQL, SQL Server, PostgreSQL, and MariaDB.
Those using virtual machines can backup VMware ESXi and Hyper-V machines without turning them off. When recovering your system you can re-install your disk image in just a few clicks.
Who is it recommended for?
As well as offering a disk cloning service, other editions of the Iperius backup system provide application-centered backups, cloud-to-cloud backups, and services protection for email and online productivity suites. This is a comprehensive package of services that the administrators of large organizations need.
Pros:
Supports integrations into cloud services like Google Drive, OneDrive, and Amazon S3
Automatically encrypts backups using AES-256 bit encryption
Supports database formats like MySQL and PostgreSQL, making it a solid choice among DBAs
Cons:
Only available for Windows operating systems
Interface can be confusing at times, with many nested tabs
Built for technical users, not the best option for home backups
Iperius Backup is a top disk-imaging tool for enterprise users that provides you with a central perspective to monitor backups, whether that's files, databases or VMs. There are multiple license types available for Iperius Backup starting with the Desktop version for $32 (£24.96). You can download a free trial.
Clonezilla is an open-source disk-imaging tool for Linux that allows you to backup and recover to bare metal devices. The Clonezilla SE version or server edition of the program can clone over 40 computers at the same time. To install the program, you need to pre-build the program then load it to a CD, USB flash drive, or hard drive.
Key Features
Free-to-use and open source
Bare metal backup and restore
Encrypts images
Why do we recommend it?
Free backup software that will run on Linux is hard to find and Clonezilla is the best of the limited options available. The interface for Clonezilla is a little dated. However, its long service record means all of the bugs have been ironed out of this system and it is a solid and reliable backup service.
To keep your system data secure, Clonezilla has a number of encryption options. You can encrypt disk images with eCryptfs or use AES 256-bit encryption to control access to the data.
Who is it recommended for?
Clonezilla is suitable for businesses of all sizes. However, businesses that have a strategy of only using software that comes with a producer-provided support contract would need to look at one of the other options on this list.
Pros:
Open-source transparent software
Can recover and restore to bare metal servers
Server version can clone up to 40 machines at once, making it a decent option for larger networks
Cons:
Users are dependent on the open-source community for support and bug fixes
Must install on USB or CD after configuration for deployment
Barebones, and not intuitive for new users
Clonezilla is ideal for small businesses and larger enterprises that want a low-cost open-source disk imaging solution. There are three versions of Clonezilla available to download: Clonezilla Live, Clonezilla Lite Server, and Clonezilla SE. You can read more about how to install the program here.
Paragon Drive Copy Professional is a disk cloning tool that can create backups and partitions. Users can back up their operating systems and migrate it to new computers. You can decide between copying an entire hard disk or partitioning. Fast recovery enables the user to return to normal operations after a system issue.
Key Features
Disk management system
Operates on Windows
Good for migration
Why do we recommend it?
Paragon Drive Copy Professional is a great tool for private users and small businesses because it doesn't just offer a backup and restore service but it also provides disk management that cleans up temporary files and reorganizes storage to optimize performance. Use this tool to migrate or replicate a setup as well as to recover lost data.
To speed up the recovery process, it comes with a wizard to assist the user in restoring backup images. Similarly, the Recovery Media Builder tool enables users to create their own recovery environment.
Who is it recommended for?
Paragon Drive Copy is aimed at small businesses and it comes with guided functions that enable proprietors to keep the few Pcs that they have in their enterprises protected. This system is also very good for private individuals.
Pros:
Allows for operating system migrations, making it a good tool for hardware upgrades
Uses a simple wizard to create a recovery environment for future media recovery
Easy-to-use interface
Cons:
Higher price point, more geared toward enterprise usage
Lacks cloud-backup options
Paragon Drive Copy Professional is recommended for enterprises who want a disk cloning tool for backing up and organizing disk content. Prices start at $79.95 (£62.36). The software supports operating systems from Windows 7 upwards. You can download it here.
Symantec Ghost Solution Suite is a disk imaging software and deployment tool that allows users to deploy Windows, Mac, and Linux operating systems. It comes with a web-based user interface outfitted with wizards to help the user to backup images.
Key Features
Clone Windows, macOS, and Linux disks
Good for device onboarding
Easy to set up and use
Why do we recommend it?
Symantec Ghost Solution Suite is a corporate solution for the backups of a large fleet of endpoints. The easy-to-use console for the service can be made available to end users to let them recover their data from backup themselves without having to rely on a central team of support technicians.
Symantec Ghost Solution Suite is a tool that's designed for enterprises that want a first-class disk imaging tool that's easy to use.
Who is it recommended for?
The Symantec Ghost Solution Suite package is designed for large corporations that want to provide services that trainee technicians get involved with. Thus, while this is a multi-site networked backup solution that is ideal for big businesses, the guided wizards for backup and recovery tasks have the feel more of the type of package that is aimed at small businesses and private users.
Pros:
Balances usability with in-depth backup features well
Uses helpful wizards during the recovery and backup processes
Cross-platform support for Windows, Linux, and Mac
Uses a web-based interface for access from anywhere on the network
Cons:
Pricing is not transparent, must contact sales
Is built for sysadmin, not the best option for home users
You can find out more about how to buy the software from the company directly from this link here.
Choosing disk cloning software

Backing up your systems and copying disk images is the best practice that gives you a contingency plan in case a computer goes down. Having a disk image backed up that you can recover allows you to return to normal operations much faster and makes sure that your data is protected from being lost.
Hard drive cloning software is invaluable because it gives you the tools to backup your operating system and files. Now that more companies are looking for recovery solutions disk cloning software has grown in popularity, meaning there is a range of tools on the market. Our editor's choice is Acronis Cyber Protect, as it offers enterprises an affordable and reliable disk cloning solution.
Disk Cloning Software FAQs
Does cloning a drive make it bootable?
A cloned drive is an exact copy of all contents down to and including the operating system. However, it does not go down to the BIOS, which is where the factors that make a disk bootable are managed. Some disk cloning systems offer the ability to reflect the BIOS settings of a drive in its new location after cloning. In which case, that software will make the cloned drive bootable if the original was.
Does Windows 10 have cloning software?
There is no built-in cloning software in Windows 10. However, there are many third-party cloning software packages that you can install on top of the operating system.
Is it better to clone or image a hard drive?
Cloning a hard drive is the best option for a one-time move of contents. Imaging is more commonly used for backups or frequently updated replications. Cloning takes time and makes a complete copy of the disk's content every time; imaging has more options and can be used for incremental backups, which are a lot faster.