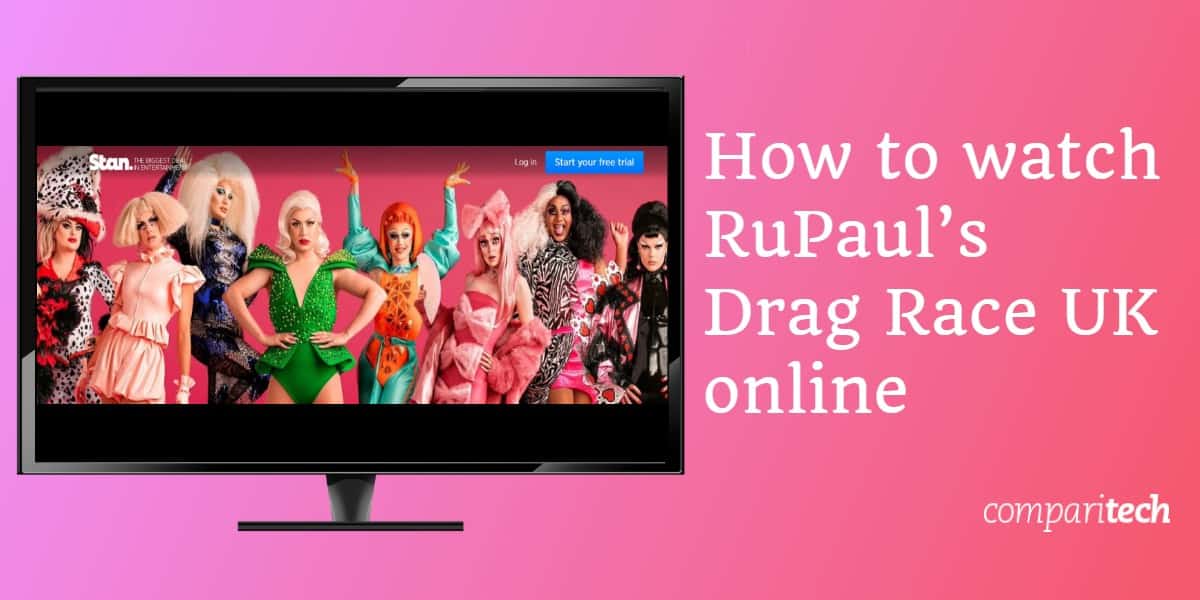 RuPaul's Drag Race UK is set to premiere October 3 at 8 PM BST (3 PM EST / 12 PM PST). There'll be eight 60-minute episodes in total, meaning this first series should end around November 21. There's plenty to look forward to before then, though; read on to find out how to live stream RuPaul's Drag Race UK from abroad (outside of the UK).
You should note that we'll only be recommending official sources. This show has an extremely strong following, so unauthorized sources will almost certainly be available. However, these tend to be especially laggy, with low-resolution video. Additionally, third-party streams can be taken offline for copyright violation at any moment. Luckily, you can watch RuPaul's Drag Race UK for free online anyway, so there's no need to use unreliable, unlicensed streams.
Drag Race UK will only air on geo-restricted streaming services. As such, you'll need a VPN to watch if you live in an unsupported country.
How to watch RuPaul's Drag Race UK from abroad with a VPN
Using a VPN to unblock geo-restricted streaming services from abroad is actually quite simple. A Virtual Private Network (VPN) tunnels your traffic privately via an intermediary server in a location of your choice. Meaning it switches your IP address to make it appear that you're in your chosen location, enabling you to bypass geo-restrictions. Follow the steps below to quickly set up a VPN, so you can watch Rupaul's Drag Race UK from anywhere.
Here's how to watch RuPaul's Drag Race UK from abroad:
Start by signing up for a suitable VPN. We recommend ExpressVPN although NordVPN and CyberGhost are both exceptional low-cost alternatives.
Download and install the VPN app. There'll be several versions to choose from so be sure to get the right one for your device.
Connect to one of your VPN's British servers. This will give you a British IP address and trick streaming services into thinking you're actually in the UK.
Create a BBC iPlayer account. This is free and only takes a minute. Note: during registration, you'll be asked for a postal code; any valid UK postal code will work.
Finally, try watching a video on BBC iPlayer. It should start almost immediately, but if not, clear your cache and cookies, then try again.
This show will be broadcast live, so it's worth taking a few minutes to make sure your VPN works ahead of time. This will enable you to contact your VPN's support team well in advance if you run into difficulty and prevent you from missing the start of an episode due to unforeseen technical problems.
How to stream RuPaul's Drag Race UK for free on UK TV
In the UK, this show will air exclusively on BBC3. The good news is that this means you can stream RuPaul's Drag Race UK live, free of charge, using BBC iPlayer. There's no need to worry if you miss an episode as this service allows you to watch new episodes for up to 30 days after they air.
British law requires you to have a TV license to watch anything on BBC iPlayer. However, this is easy to accidentally overlook since the service doesn't always make it clear, and doesn't verify whether you have a license or not. In fact, BBC iPlayer operates entirely on an honor system.
Want to catch up on older episodes of RuPaul's Drag Race? Netflix UK currently has all eleven seasons and includes a one-month free trial.
BBC iPlayer is only available in the UK. This means you'll need a VPN to stream RuPaul's Drag Race UK from abroad. Still don't have a VPN? ExpressVPN comes with a risk-free 30-day money-back guarantee so you can try it and claim a full refund if you're not impressed.
Where else can I watch RuPaul's Drag Race UK?
Most regional spinoffs aren't released internationally but luckily, Drag Race UK will be available almost everywhere. Take a look below to find out how to watch in your country.
USA
American fans don't have to wait too long since RuPaul's Drag Race UK episodes will be added to the WOW Presents Plus library about an hour after they finish airing in the UK. This streaming service costs $3.99 USD per month and includes a one-month free trial.
New episodes will also air on Logo TV eight days after they're shown on WOW Presents Plus. If your cable TV package already includes this channel, you can sign in and watch online at no added cost. There's also the option to sign in with a fuboTV subscription, but this is far more expensive than just registering for WOW Presents Plus.
WOW Presents Plus and Logo TV are both geo-restricted, meaning you'll have to use a VPN to watch Drag Race UK from outside of the US.
Canada
Canadian fans will be able to stream Drag Race UK live and on-demand on Crave. This service costs $9.99 CAD (plus tax) per month, although if you have cable TV, you may be able to sign up at a discounted rate.
Crave also offers every single season of RuPaul's Drag Race and Drag Race: All Stars, so there'll be plenty to keep you occupied while you wait for each week's episode.
This service is region-locked. As such, you'll have to either be in Canada or connected to one of your VPN's Canadian servers before you can watch.
Australia
Stan has exclusive broadcasting rights to RuPaul's Drag Race UK in Australia. This is an on-demand streaming service, so you won't be able to watch live. However, Stan will add episodes the same day that they air in the UK.
This service costs $10 AUD per month and comes with a 30-day free trial. Further, it currently offers all eleven seasons of Drag Race as well as Drag Race: All Stars and Drag Race: Untucked.
Stan is geo-restricted and only available in Australia. To access it abroad, you'll have to connect to an Australian VPN server.
Other locations
WOW Presents Plus is the official broadcaster for RuPaul's Drag Race UK everywhere except the UK, Canada, and Australia. There'll be Portuguese and Spanish subtitles available, but audio will only be available in English.
This service costs $3.99 USD (around €3.66) per month but you can sign up from anywhere, plus there's a 30-day free trial. This means that, if you're willing to wait a few weeks, you can sign up, stream the entire season, and simply cancel to avoid being charged.
RuPaul's Drag Race UK: cast and contestants
RuPaul, Michelle Visage, Graham Norton, and Alan Carr will be the judges on the British version of Drag Race. There have also been several high-profile guest judges announced including Maisie Williams, Geri Horner, Jade Thirwall, Andrew Garfield, Michaela Coel, Cheryl Tweedy, and Twiggy.
This show will have a slimmer roster than the US version (at least for the first season), with just ten contestants. Below, you'll find a full list of RuPaul's Drag Race UK participants:
Baga Chipz, aged 29, from London
Blu Hydrangea, aged 23, from Belfast
Cheryl Hole, aged 25, from Essex
Crystal, aged 34, from London
Divina de Campo, aged 35, from West Yorkshire
Gothy Kendoll, aged 21, from Leicester
Scaredy Kat, aged 19, from Wiltshire
Sum Ting Wong, aged 30, from Birmingham
Vinegar Strokes, aged 35, from London
The Vivienne, aged 27, from Liverpool