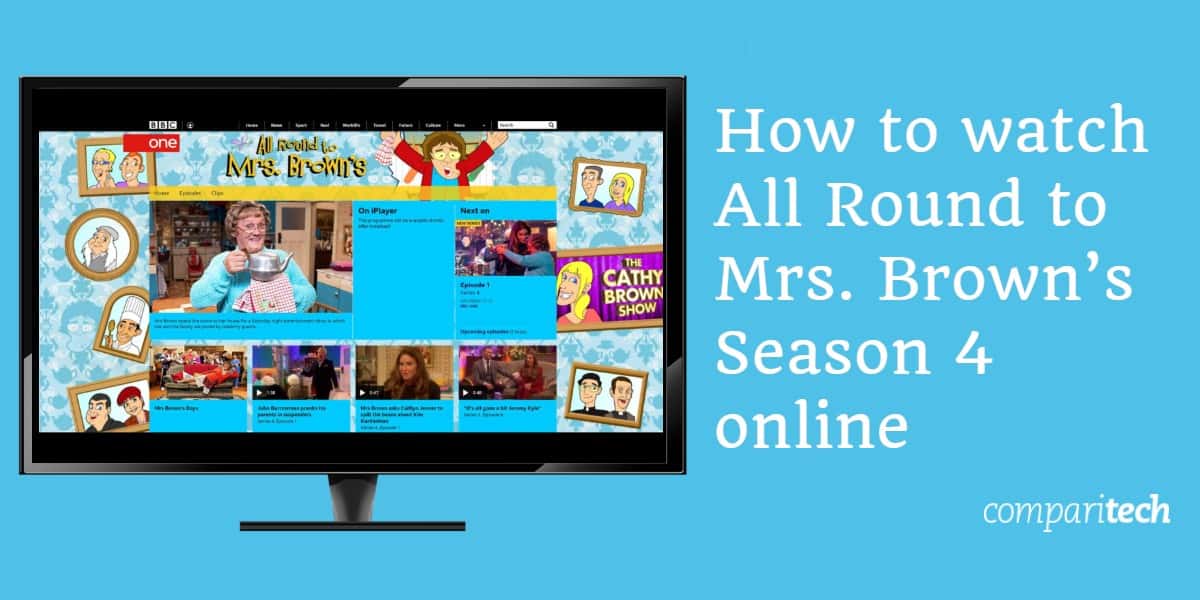 The fourth season of All Round to Mrs. Brown's will premiere at 9:45 PM GMT on March 21. There'll be six episodes in total, but since we only know the guests for the first two, there are still plenty of surprises in store. Take a look below to find out how you can live stream All Round to Mrs. Brown's for free online.
It's important to note that we're only recommending official sources. This is a very popular show, so it's likely that there'll be unauthorized streams available. That said, unauthorized streams are frequently taken down for copyright infringement, and often only provide laggy, low-resolution video in the first place. The good news is that it's easy to watch All Round to Mrs. Brown's for free, so there's no reason to watch on shady streaming sites.
The new series will only be shown on region-locked streaming platforms. This means that if you're traveling outside of the UK and Ireland, you'll need a Virtual Private Network (VPN) to watch on your usual services.
How to live stream All Round to Mrs. Brown's abroad with a VPN
VPNs encrypt your traffic, preventing it from being read by snoopers. However, they also allow you to change your IP address and as such, the country you appear to be in. This makes it easy to access geo-restricted services like BBC iPlayer from abroad.
Here's how to watch All Round to Mrs Browns online from anywhere:
First off, you'll have to sign up for a suitable VPN. We recommend ExpressVPN but NordVPN and CyberGhost are both excellent low-cost alternatives.
Next, download and install the VPN app onto your device. Most providers allow multiple connections, so it's possible to secure several devices simultaneously.
Open the app, log in, and connect to a server in the UK (to unblock BBC iPlayer) or Ireland (to unblock RTÉ Player).
Create an account for your chosen service if needed. BBC iPlayer will require you to enter a local postal code, but any will work.
Finally, try accessing a live stream. You should find that it loads right away without any problems. If it doesn't, clear your browser's cookies and try again.
All Round to Mrs. Brown's season 4 will be broadcast live. For this reason, we recommend spending a few minutes ahead of time making sure your VPN works as expected. If not, you'll have plenty of time to contact your VPN's support team for further assistance.
How to watch All Round to Mrs. Brown's for free on UK TV
In the UK, season 4 will be broadcast exclusively on BBC One at 9:15 PM GMT every Saturday. This means that you can watch, free of charge, on BBC iPlayer. You will have to create an account first, but this is quick and easy; you don't even have to verify your email address.
If you have other plans on Saturday nights, not to worry. Episodes will be added to the iPlayer's on-demand library a few hours after they finish. Note that while a TV license usually isn't required to watch on-demand content, the rules are different for BBC iPlayer. Despite this, the service doesn't verify whether you have a license or not and relies entirely on an honor system.
BBC iPlayer is geo-restricted and only accessible in the UK. That said, if you're currently traveling abroad, you can connect to a British VPN server to use the service as normal. ExpressVPN comes with a 30-day money-back guarantee, which means you can try it risk-free and get your money back if unsatisfied.
Where else can I stream All Round to Mrs. Brown's online?
As expected, All Round to Mrs. Brown's will also air in Ireland. However, unlike Mrs. Brown's Boys, it won't be shown in countries like Canada, Australia, or New Zealand.
Ireland
New episodes of All Round to Mrs. Brown's will air at 9:45 PM GMT every Saturday on RTÉ One. Fans can live stream these, completely free, via RTÉ Player. There's no need to sign up, so you can just jump right in and start watching. Episodes will be made available on-demand the following day, so don't panic if you miss one.
RTÉ Player is region-locked, so you'll have to either be in Ireland or connected to an Irish VPN server to use it.
What's the difference between this and Mrs. Brown's Boys?
Mrs. Brown's Boys was a sitcom, but All Round to Mrs. Brown's is a talk show with celebrity guests, somewhat similar to The Graham Norton Show. That said, Brendan O'Carroll has indicated that there'll be another round of seasonal episodes of Mrs. Brown's Boys in 2020, and possibly even another full series at some point in the future.
What do we know about season 4 of All Round to Mrs. Brown's?
Any chatshow lives and dies by the quality of its guests, and All Round to Mrs. Brown's is no exception. Season four looks to be changing things up slightly, though, with more internationally-recognizable celebrities instead of those who may only be well-known in the UK and Ireland.
For instance, we know that in the premiere, O'Carroll will be joined by John Barrowman, Caitlyn Jenner, and The Script. This isn't to say that British celebrities won't be making an appearance though. In fact, episode two will be something of a return to form, with Lee Mack, Emilia Fox, and Billy Ocean all trying to hold their own against Agnes Brown.