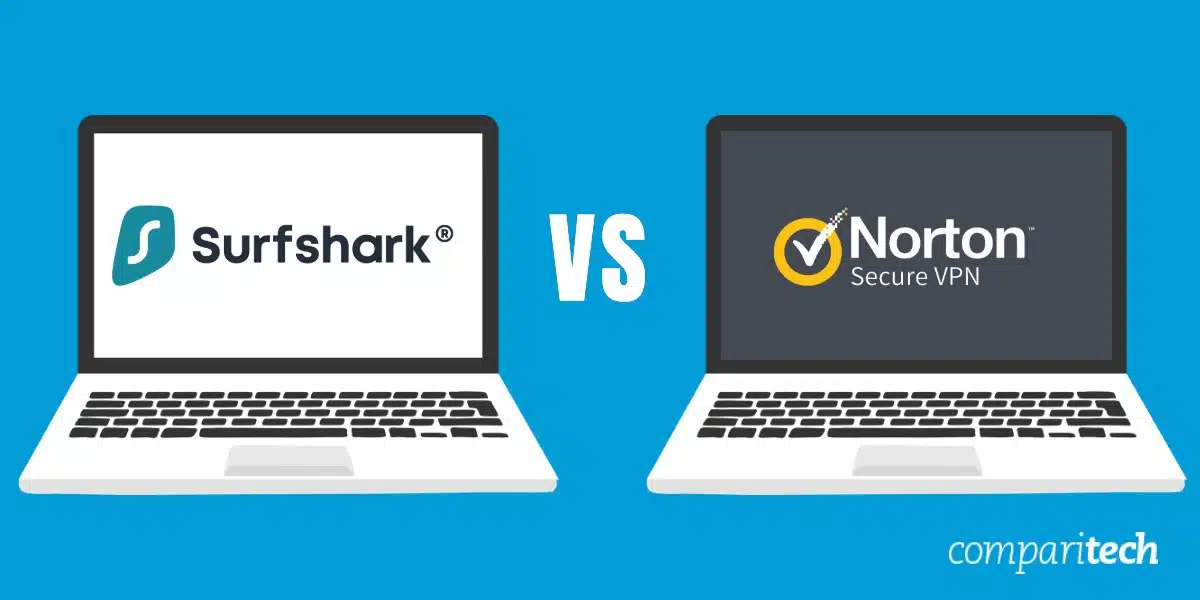 Norton has a long and reputable history as a leader in the cybersecurity space, with products ranging from antivirus to online backup solutions. Norton Secure VPN is a more recent entry that can integrate with its Norton 360 Suite, meaning you get the best of both worlds. Meanwhile, Surfshark is a standalone VPN provider without the bells and whistles of an internet security package, but that's not to say it's not fantastic at what it does.
Our experts have tested everything from speed and performance to streaming capabilities for both providers. If you're ready to find out the results of our tests and to make your decision a little easier, you'll find everything in this article.
Want to skip to the outcome? Surfshark is our winner. Keep reading to find out all of the details and how we came to that conclusion.
Highlights
Super affordable pricing
Unlimited device connections
Bypasses major geo-restrictions
Wide range of server locations

Integrates with Norton 360 Suite
Allows torrenting
Automatic wi-fi security
60-day money-back guarantee
Surfshark vs Norton Secure VPN pricing
We're kicking off our head to head with Norton Secure VPN's pricing, offering one-month and annual subscription options. Pricing changes depending on the number of simultaneous device connections you choose, with 1 device plans costing $29.99, 5 devices at $39.99, and 10 devices at $59.99 annually. Each of the annual plans offer savings of 40% per year versus paying the monthly subscription fee.
Surfshark far outperforms Norton here, though, with its monthly, six-month, and two-year pricing options, all offering unlimited simultaneous device connections regardless of which plan you choose. Unlimited devices allow you to connect to a VPN on your phone, desktop, TV, or games console (or virtually any other device) simultaneously. You could also share the account with a friend or someone else you trust to lower the subscription fee cost.
Users signing up to Surfshark's two-year plan save a significant 83% versus their monthly plan, which is more than double the 40% saving on Norton's annual plans. Although Surfshark doesn't offer a yearly price, its two-year price is almost equal to Norton's one-year price of around $60.
Norton Secure VPN pushes ahead slightly with its money-back guarantee, beating Surfshark's 30-day refund policy with a full 60 days. That means if you change your mind during this period, you can cancel and get all of your money back.
BEST DEAL FOR SURFSHARK:save 83% when you choose Surfshark's 2-year deal.
BEST DEAL FOR NORTON SECURE VPN:get 46% off Norton Secure VPN's 1-year plan.
Surfshark vs Norton Secure VPN features
Norton Secure VPN doesn't perform too poorly in terms of its features, offering apps for almost every platform that Surfshark has on offer except for the support for Firestick and Linux. This might not be a gamechanger for some, but for many, the option to use a VPN on your TV could allow you to watch the best content libraries from Netflix, Disney Plus, and more without settling for streams on your desktop or smartphone.
Aside from the supported devices, Norton and Surfshark have the option to set up their VPNs directly on a supported router. This may come in useful for those who want to enable the VPN on a single device rather than installing it on every other device around their home. After setting up a VPN on a router, every device that connects to your home wifi will benefit from an encrypted connection.
Surfshark and Norton Secure VPN both offer split tunneling, which is an advanced feature that lets you route your internet traffic separately from your VPN activities. This could come in useful if you were using Kodi, for example, and needed the anonymity of a VPN but would prefer your browsing activities to go via a direct internet connection.
Surfshark includes anti-tracking, malware-scanning, and ad-blocking tools with its native apps, which adds another layer to protecting your privacy while you surf the web. Norton Secure VPN has a built-in ad-tracker blocker that doesn't block ads from showing on YouTube or other websites. It simply stops advertisers from tracking how you navigate across the web.
Streaming and unblocking
If your sole intention (or one of them) for choosing a VPN is to binge on some of the biggest and best movies and TV shows around, this is the part of the article you don't want to miss. When VPNs became available, most people would use them to encrypt their internet traffic to prevent their ISPs from watching their every move. Today though, VPNs have gotten pretty good at letting you enjoy your home Netflix libraries from anywhere and stream platforms in countries that would otherwise be blocked with a direct internet connection.
Sites like Netflix use geo-restrictions to limit the content available depending on the location you are connecting from. For example, if you live in the UK and try to access Netflix with a direct connection, the media catalog would be significantly smaller than the content available in other regions. However, You can use a VPN from outside your home country to change your virtual location to your home region, so while you are visiting somewhere like the US, connecting to a UK VPN server and then accessing Netflix would let you watch the shows you already pay for at home.
Norton Secure VPN struggled with the majority of streaming platforms we tested it with, and while it let us watch Netflix US it was inconsistent at best. Norton accessed Disney Plus, Prime Video, and Channel 4 without any issues, but almost every other platform encountered an error. Meanwhile, Surfshark lets us stream every platform we tested with it, allowing us to enjoy some of the best Netflix libraries around and some of the biggest UK streaming platforms without any effort.
Which of these VPNs work in China?
If you need a VPN that works in China, you'll probably want to avoid Norton Secure VPN for now. China is among a handful of countries that heavily censor internet traffic from those connecting with a direct internet connection.
Facebook, Snapchat, and global news channels are some of the platforms that are blocked by China's Great Firewall, which monitors internet traffic and stops users in their tracks from accessing content deemed not allowed by the Chinese government.
Surfshark is the ultimate choice for surfing the web and watching movies and TV shows in China, thanks to its dual obfuscation features it calls NoBorders and Camouflage Mode. When enabled, these features make it more difficult for ISPs or middlemen to detect VPN usage, allowing users to get around the detection of China's Great firewall.
Setup and interface
Surfshark and Norton Secure VPN both make setting up a VPN straightforward, although Surfshark caters to Linux users looking for a more bespoke setup.
Server selection with both providers is simple, with a list of servers to choose from, helping you connect with a single click or tap of a server location. Settings pages are standard with Surfshark and Norton, but Surfshark has a little more depth allowing you to change the app appearance with skins.
Apps for each VPN look great on mobile and scale well for larger screens like macOS devices. Surfshark's TV and games console apps are also user-friendly and intuitive.
Servers and performance
Surfshark comes out on top for servers and performance, offering over 60 server locations spanning the globe, with 3200+ servers across the network. Norton Secure VPN isn't so generous, offering half the locations and total servers of Surfshark.
A decent number of server locations means you'll almost always have a VPN server nearby to produce the best possible connection speeds. Having a large server network also means that you aren't sharing servers with as many users, positively impacting speeds.
Speed
We put Norton Secure VPN and Surfshark through rigorous speed tests using a 5GBps connection speed to ensure we maxed out the full speeds. We tested both VPNs nine times across three time periods on a US server, a UK server, and a server in Hong Kong.
It was a close call, but the global average for Surfshark at 323.6 MBps slightly outperformed Norton Secure VPN's average of 317 MBps.
Security
Norton Secure VPN and Surfshark share VPN protocols in common, including OpenVPN, commonly used to secure point-to-point or site-to-site connections. Norton also offers IPSec, which is available with its iOS app. Although it is regarded as a more secure alternative than OpenVPN, it doesn't quite match the reliability and security of Surfshark's IKEv2 protocol.
Additionally, Surfshark offers WireGuard, which produces excellent speeds. It also has the open-source Shadowsocks protocol available, which further enhances Surfshark's ability to block internet censorship in places like China.
When we first researched Norton Secure VPN, one of their major selling points they mentioned is their "bank-grade encryption," equivalent to AES 256-bit, the standard we'd expect from any VPN we test. While that sounds great, Surfshark deploys the same 256-bit encryption too, so while it's great to have as a means of securing your privacy, it's not something that makes Norton stand out.
Surfshark uses RSA-2048 channel encryption to secure your connections to apps and websites, and while this isn't as high as we'd like to see with providers like NordVPN producing RSA-4096 channel encryption, most sources show Norton Secure VPN only utilizes RSA-1024. I asked Norton support to clarify, but they could only provide the AES encryption details.
RSA-1024 is less widely used nowadays as it is easier to crack than higher bit length channel encryption – that's not to say it's insecure, but it's less secure than we'd typically recommend.
Norton Secure VPN doesn't offer any cloaking technology, which is among some of the possible reasons it fails to function in China. Surfshark uses two obfuscation features, NoBorders Mode and Camouflage Mode, to help make VPN usage less detectable.
A kill switch further enhances your privacy by ensuring none of your online activities leak when your VPN is enabled. Norton Secure VPN didn't include a kill switch with its VPN apps until recently but now offers this feature on Windows and Android. Surfshark also provides a kill switch on all platforms. The kill switch monitors your VPN connection, and if the VPN fails, your internet connection is disabled until it comes back up again. This is useful in scenarios when you are using websites where anonymity matters and you don't want your activity being logged by your ISP.
Configuration
Surfshark and Norton Secure VPN users share IP addresses (dynamic IP addresses) that change every time you log on to the internet. Neither provider offers a dedicated IP address, unlike providers that offer dedicated IP addresses at an extra monthly cost.
Dynamic IP addresses are shared between multiple users and are common for most VPN providers, making it more difficult to track the behaviors of each user.
Privacy
Surfshark is based in the Netherlands, which forms part of the Nine Eyes Alliance, meaning government officials or law enforcement could approach the provider to request logging data at any time. However, Surfshark only logs minimal data on their users, so it's unlikely that officials would be able to identify users from this information anyway.
Norton Secure VPN is based in the US, which forms part of the Five Eyes Alliance, and would be subject to similar rules to Surfshark. Unlike Surfshark, however, Norton keeps logs of your IP address, mobile device data, bandwidth usage, and personal details, which could assist authorities in identifying a user if necessary. This poses Norton Secure VPN as a risk, as other than the backing of years as a reputable internet security provider, there's an element of uncertainty about the safety of your privacy.
Bitcoin, Ethereum, and Ripple are all available anonymous payments methods with Surfshark, whereas Norton only allows methods like PayPal, Google Pay, and credit card payments. Anonymous payments are an additional layer of privacy between you and the VPN provider.
Customer service
There isn't a substantial difference between Norton and Surfshark for customer service, other than the fact that Norton has a phone support option – although it's only available to VPN users from the United States. Both providers offer live chat support 24/7, and we found Surfshark to respond in a matter of minutes with a detailed solution to resolve the problem we raised. Similarly, Norton's live chat response was speedy, but it lacked the in-depth technical know-how of what we were looking for with very basic answers.
Both VPNs offer a ticketing platform, but Norton Secure VPN made it challenging to find a way of contacting support by email.
The knowledge base at Surfshark is generally sufficient to answer most FAQs, but Norton pushed forward with a more profound knowledge base which includes video guides for those who don't feel like reading lengthy articles.
Surfshark steams ahead to the finish line as the best overall provider against Norton Secure VPN. It's heavily discounted pricing on two-year plans with unlimited simultaneous devices triumphs over Norton's set device limit. Surfshark's blistering speeds are no match for Norton, allowing you to enjoy buffer-free streaming and lag-less online gaming.
Unlike Norton, Surfshark also allows torrenting and activities like Kodi, which will be effortless when combined with superfast download speeds. Surfshark customer support offers several contact options with fast and detailed responses.
See also: