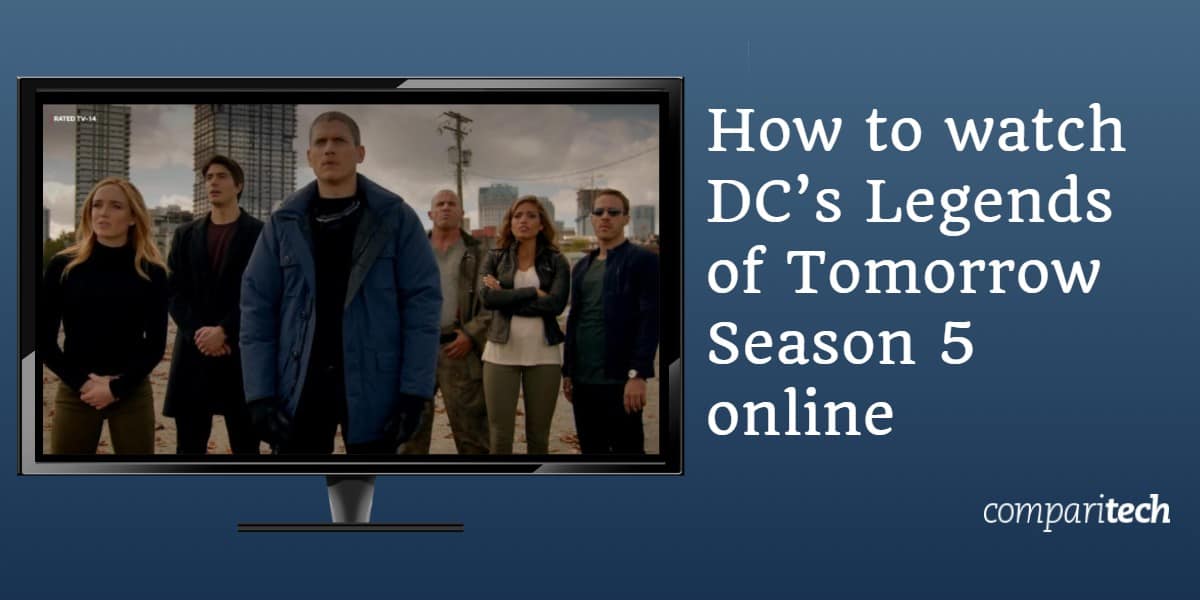 The fifth season of DC's Legends of Tomorrow will begin on January 21 at 9 PM EST (6 PM PST / 2 AM GMT). In total, there'll be sixteen episodes, with one released each week, meaning we can expect this season to end sometime in April. However, as it is only shown on region-locked services you'll need a VPN to watch while traveling abroad. Read on to find out how to live stream Legends of Tomorrow season 5 online from anywhere (even abroad).
In this article, we will explore official sources for live streaming Legends of Tomorrow. There will also be unofficial (pirated) streams available, but we don't recommend using these. Unofficial streams tend to have low picture quality and are often taken offline. You can stream Legends of Tomorrow online for free anyway, so unofficial streams aren't really needed.
You should note that Legends of Tomorrow will only be broadcast on region-locked streaming services. This means that if you're traveling abroad and there's no official broadcaster in your country, you'll need a VPN (Virtual Private Network) to connect to your streaming services back home.
How to watch DC's Legends of Tomorrow online with a VPN
Streaming services are often only available in specific countries, and won't let you watch from abroad. However, by changing your IP address using a VPN, you can easily spoof your location and watch Legends of Tomorrow online, even while abroad.
Here's how to watch DC Legends of Tomorrow online from anywhere:
Choose a VPN provider. We mentioned ExpressVPN above, but Cyberghost and NordVPN are also good options.
Go to the VPN provider's website and download the latest version of its software. Make sure you get the correct version for your operating system.
Install the software and launch it
Select a server from within the United States
Once the server connects, use a website such as whatsmyip.org to make sure you now have a U.S. IP address
Navigate to The CW's official website in your web browser
Click on the latest episode of Legends of Tomorrow to begin playing
To make sure you don't have to wait to see new episodes, we recommend trying out this method on other shows or early episodes before the new ones are posted. This way, you can change servers or contact customer service ahead of time if something goes wrong.
How to watch Legends of Tomorrow for free on US TV
Legends of Tomorrow airs on The CW, a free, over-the-air broadcast network in the U.S. Every new episode that airs on The CW is also posted to their official website, CWTV.com, at 11 p.m. EST on the night it airs. If you are located in the U.S., this means you can watch new episodes of Legends of Tomorrow for free by simply opening a browser, navigating to the site, and clicking on the latest episode.
Another option is to sign up for a "skinny bundle" online TV service. This will allow you to watch the show live in high-definition. Here is a list of a few "skinny bundles" that include The CW:
Remember, all of the above services are region-locked. As such, you'll need a VPN to watch if you're abroad. ExpressVPN offers a 30-day money-back guarantee, allowing you to watch risk-free and claim a full refund if you're unsatisfied.
Where else can I watch Legends of Tomorrow online?
In addition to being available on The CW's official website, Legends of Tomorrow can also be found in a few other places. Here is a list of sites you can stream Legends of Tomorrow from in the US, Canada, UK, and Australia.
Canada
Legends of Tomorrow will also be live-streamed in HD on CTV Sci-fi at the same time it is broadcast in the U.S. Unfortunately, though, you'll have to sign in with your cable provider details to watch. On the plus side, if you miss an episode, you can stream it a few hours later on-demand.
CTV is geo-blocked, so you'll have to either be in Canada or using a Canadian VPN server to access it.
UK
At the moment, there's no official release date of Legends of Tomorrow in the UK. Previous seasons have aired on Sky One and Now TV shortly after their US release, although this doesn't seem to be the case for season five.
Australia
If you are located in Australia, you can catch Legends of Tomorrow every Wednesday at 9:30 PM AEDT (Monday night at 9 p.m. EST) on Foxtel 8. If this channel is included as part of your TV package, you can stream it online at no added cost via the Foxtel GO website or app. Otherwise, you can sign up for Foxtel Now for $25 AUD per month.
Foxtel services are only available in Australia, so if you're abroad, you'll need a VPN.
Can I stream Legends of Tomorrow with a free VPN?
We do not recommend using a free VPN. While some free VPNs may allow you to get around geographic content blocks temporarily, they often will not work well enough for buffer-free HD streaming. Some will even buffer with SD streams.
Free VPNs often have thousands of users trying to connect to outdated infrastructure. This leads to server outages and dropped signals. Additionally, most free VPNs will limit your data usage. The data limit is often far below what you'd need to stream either SD or HD video.
In addition, they often keep logs of users' activities, leading to invasions of privacy that VPNs are supposed to eliminate. To protect your privacy, we recommend using a VPN with a record of protecting users' privacy.
For a detailed list of VPNs that are great for streaming video, check out our guide to VPNs.
What is DC's Legends of Tomorrow?
Legends of Tomorrow is a superhero television series developed by Marc Guggenheim, Phil Klemmer, Andrew Kreisberg, and Greg Berlanti. The show is based on characters from DC comics and takes place in the "Arrowverse," a shared fictional universe that incorporates characters from The CW shows Arrow, The Flash, Vixen, Supergirl, and others.
It stars Arthur Darvill (Doctor Who's "Rory Williams") as Rip Hunter, a time-traveling adventurer and leader of the group of heroes; Caity Lotz (MTV's Death Valley) as an assassin and vigilante; Wentworth Miller and Dominic Purcell (from Prison Break fame) as two thieves who have no superpowers; and Brandon Routh (the star of 2006's Superman) as a scientist/engineer who created a mechanical suit that allows him to change size.
The plot of the show revolves around the threat of an evil immortal being named Vandal Savage, who intends to destroy the world. The heroes travel through time, visiting Ancient Egypt, the Soviet Union, the U.S. in the 1970's, and other exotic places and times while chasing and fighting this evil being.
In addition to the time-travel aspect of the show, many viewers enjoy the witty dialogue and fast-paced action in DC's Legends of Tomorrow.
If you've never seen the show before and want to catch up with the present season, the pilot episode and most of the episodes from previous seasons are available on Netflix, as well as CraveTV in Canada.