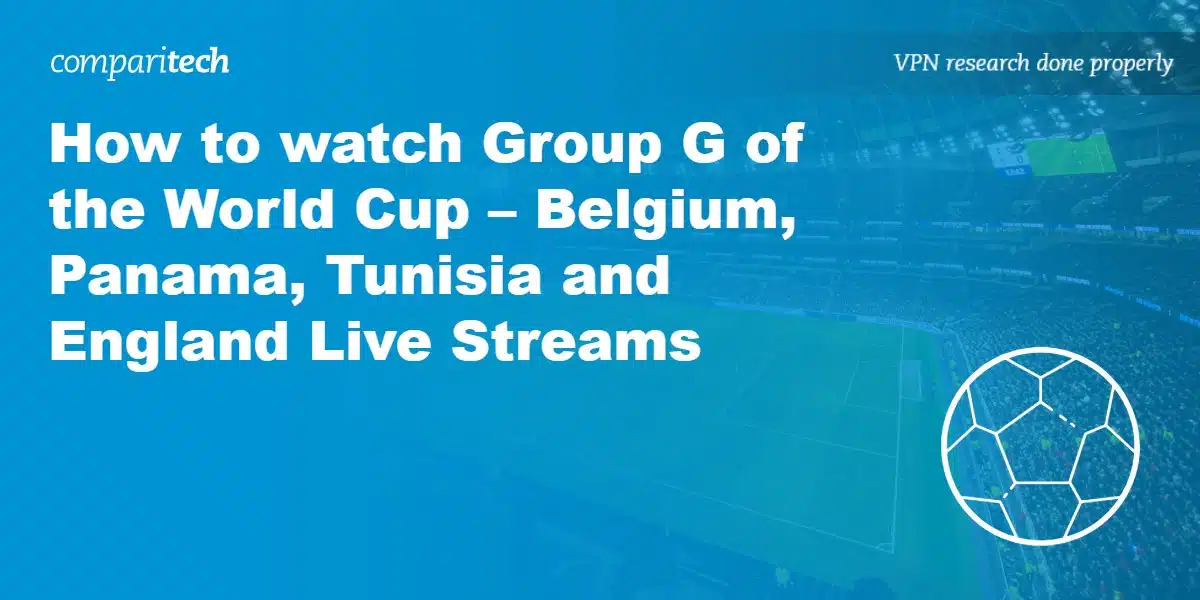 Are you elbow's deep in 2018 FIFA matches but still can't get enough? You're definitely going to want to watch Group G of the World Cup live. Belgium, Panama, Tunisia, and England are all going at it and vying for the top spots. All three teams are underdogs going into the 2018 World Cup in Russia, although Belgium looks to be an outside bet for some.
You can get in on the action and live stream Group G games online through a large number of international TV networks. Looking to watch the games with local commentary? You'll have a few options there as well.
For other groups, see our full guide to streaming world cup games live.
As you search for Group G online streams and other FIFA World Cup matches, you will likely come across a number of illegal streaming sources. We recommend users turn to legitimate streams online for watching. Not only will legitimate and legal sources offer better quality, there are so many legal streaming options, many of which are free, that you can easily watch matches live and on replay without giving over to unsecure sites that may pose a security risk.
Use a VPN for FIFA 2018 World Cup Group G matches
Regardless of what country you call home, if you want to connect to the UK, Belgium, Panama, or Tunisia for live Group G matches, you may find yourself in need of a virtual private network, or VPN. If you're traveling or live outside of those countries and want local commentary, you will need the functions provided by a VPN.
In each of these countries, television networks streaming content online block access to those outside of the country. Your IP address gives away your location, so you will get one of many geographic restriction messages keeping you out.
A good VPN will let you connect securely and privately to the country of your choice, giving you direct access to those formerly blocked streams. As you'll get a new IP address associated with the country you're connected to, the once-blocked stream will now let you in, free and clear.
Not every VPN service will work, however, as streaming services are increasingly using what's known as Deep Packet Inspection (DPI) to detect and block VPN connections.
For this reason, we recommend ExpressVPN. Where most other services are blocked these days, ExpressVPN utilizes various strategies and technologies that let it bypass DPI and geographic content blocking. As such, you can use ExpressVPN to watch Group G matches in any country.
Not only does ExpressVPN let you stream without buffering, you can also sign up with a 30-day money-back guarantee. That's enough to last you most of the World Cup. You can also sign up for 1, 6, or 12 months, with huge discounts the longer you sign up for.
THREE MONTHS FREE: Get an extra three months free and save 49% by choosing ExpressVPN's annual plan.
Read our full review of ExpressVPN.
Group G World Cup Games: How to watch from a competing country
With the onset of Group G, we'll have Belgium, Panama, Tunisia, and England all vying for a top spot. Considering all of these countries have a strong fanbase for the sport, there are broadcasts occurring in each country, sometimes for free.
Belgium
Belgium is split into two primary language regions: Dutch and French. For both, public broadcasting companies have the rights to live stream the World Cup games in 2018.
VRT will cover the Flanders region of Belgium with Dutch-commentary broadcasts. Viewers can tune in on the Sporza.be website or download the Sporza app.
French-language commentary will be available through RTBF. After signing up at RTBF Auvio, you can watch live on the web or through the RTBF Auvio app.
Commentary for these services will be delivered in French (RTBF) and Dutch (VRT).
Panama
Panamanians have four options for World Cup streams: Corporación Medcom, Televisora Nacional, Sky, Movistar.
If you already have a Sky account and are traveling abroad, a VPN will work to unblock the content. However, note that Sky UK does not have broadcast rights, while Sky Panama does, so you would need a Panama-based account.
While Corporación Medcom does not appear to have a functional website, Televisora Nacional (TVN) does. For World Cup matches, you will need to tune in live on TV MAX, with no VPN required from anywhere in the world.
As for Moviestar, you will need a Moviestar Panama account. World Cup Group G matches are available live streaming through M Play.
All broadcasters in Panama will be streaming Group G matches with commentary in Spanish.
Tunisia
There are no local or national broadcasters streaming Group G games in Tunisia. If you're in the country or traveling from Tunisia, you will either need a subscription to beIN Sports or need to use a VPN to connect to a free stream elsewhere in the world.
beIN Sports can be used to watch commentary in Tunisia in either English or Spanish. There are currently no Arabic broadcasts live online in Tunisia.
England (UK)
As long as you have a TV License handy, you can watch all FIFA World Cup Group G matches online or through a mobile app in the UK. Broadcast rights are currently owned by the BBC and ITV.
For the BBC, you can watch live through the BBC iPlayer. The iPlayer has a mobile app or you can watch on the web through your browser.
ITV has working streams through its ITV Hub.
For both, you can combine your efforts through the TVPlayer.com website, which streams both BBC and ITV content.
Both ITV and BBC region-lock their content, but ExpressVPN does work to unblock either option.
All broadcasts will have commentary in English.
How to watch World Cup Group G games from abroad
The rest of the World Cup doesn't shut off for international streams during Group G matches. Regardless of where you are in the world, you can still get Group G matches through official streaming sources. FIFA sold broadcasting rights to companies in almost every country in the world. And even if you're living in one of the very few countries without an official streaming source, you can still access many streams online.
Here's a selection of streaming rights and broadcast options from other select regions.
USA
US residents will need to get access to FOX Sports or Telemundo (through NBC Sports Network) in order to catch Group G matches and beyond.
Both can be acquired through a traditional cable subscription, but your best option will be one of a half dozen internet TV streaming services: Sling TV, fuboTV, YouTube TV, PlayStation Vue, DirecTV Now, or Hulu with Live TV. You can also get FOX Sports through the FOX Soccer Match Pass.
You can get Telemundo from most of the above services as well. But for Telemundo, streaming live content online will require you to download the NBC Sports Network app. From there, you can confirm your account with one of the streaming services, and watch Telemundo's Spanish-commentary coverage. NBC owns Telemundo, so it's an easy workaround for them to offer live streams of the World Cup alongside FOX Sports.
English commentary will be broadcast through FOX Sports, while Spanish commentary will come through Telemundo Deportes.
Australia
There are two companies that own the World Cup streaming rights in Australia: SBS and Optus Sport. If you want all of the Group G matches and more, Optus Sport is going to be the option for you. You will need a subscription, however.
SBS will have two Group G match-ups: Belgium v. Panama (not live) and Tunisia v. England (live and in HD). Through The World Game website, you can watch all of the SBS broadcasts for free.
All Australian broadcasts will be shown with English commentary.
Germany
In Germany, two broadcasters will be splitting the rights to all of the World Cup games: ARD and ZDF. Both are public broadcasting companies and both allow you to stream the games live online through a web browser.
ARD, however, does not impose any geographic content restrictions to watch its live content on the web. ZDF does impose these restrictions, so anyone connecting in from outside of Germany will need to use a bypass.
All commentary on ARD and ZDF will be in German.
Italy
This year, all World Cup matches will be shown via the Mediaset free-to-air channels: Canale 5, Italia 1 and Rete 4. This is a boon for Italian sports fans, as Mediaset could easily have bought the broadcast rights and shown them only on its pay-TV channels.
Mediaset has even designed their websites so that you don't need to go searching for the live streams. Each site has the live stream available immediately on the landing page.
Geographic content restrictions are in place for all three channels, so you will need a VPN bypass.
All commentary will be displayed in Italian.
2018 World Cup: Group G fixtures
There will be six Group G games in total, spread over three days.
| Day | Date | Match |
| --- | --- | --- |
| Monday | June 18 | Belgium v. Panama - 16:00 BST/ 11:00 EDT |
| Monday | June 18 | Tunisia v. England - 19:00 BST/ 14:00 EDT |
| Saturday | June 23 | Belgium v. Tunisia - 13:00 BST/ 08:00 EDT |
| Sunday | June 24 | England v. Panama - 13:00 BST/ 08:00 EDT |
| Thursday | June 28 | England v Belgium - 19:00 BST/ 14:00 EDT |
| Thursday | June 28 | Panama v. Tunisia - 19:00 BST/ 14:00 EDT |
How to watch World Cup Group G games with a VPN
If you do find yourself in need of a VPN to watch Group G games, here's how to set everything up to work:
Select your VPN service (Either ExpressVPN, or service that will work to bypass the restrictions, such as NordVPN or CyberGhost)
Create your VPN account
Download and install the software client
Once installed, connect to a VPN server in the country of your choice
Go to a web browser and load the stream you're hoping to view. You should now be able to bypass the location restrictions
While a VPN will work in most cases, there are some situations where they will not work. For example, if the site or service you're trying to use requires a local credit card or payment method, a VPN cannot work to bypass that type of location verification.
Comparitech does not condone or encourage any copyright violation, including streaming video from pirated sources. Although VPNs can skirt geographical restrictions and mask the user's identity, please consider the local laws, victims, and risks of piracy before downloading or streaming copyrighted material without permission.